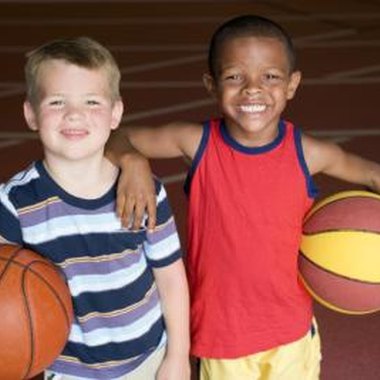 Basketball camps are often held in the summer to prepare players for the upcoming season. Players at the camps are given instruction on how to improve their skills and an opportunity to play against their peers. Broward County is located in southern Florida, and some of the major cities in the county include Ft. Lauderdale, Hollywood, Pembroke Pines and Coral Springs.
D. Wade All-Star Basketball Camp
The D. Wade All Star Basketball Camp (procamps.com) takes place in Ft. Lauderdale at Nova Southeastern University. While campers receive instruction from local coaches and players, Dwayne Wade also addresses the campers on a daily basis. Dwayne Wade is a member of the Miami Heat and is an NBA champion and Olympic gold medalist. In addition to basketball training, all campers receive a Jordan Brand T-shirt, autographed photo and opportunity to participate in contests. The camp takes place in July and is for boys and girls ages 7 to 18.
All American Basketball School
The All American Basketball School (allamericanbasketballschool.com) is located in Weston, Florida, and is a basketball camp for children ages 4 to 15. One-week camps are held throughout the summer from June until August. Daily activities include a warm-up, basketball-specific drills, lectures, two games per day, 3-on-3 competition, contests and tournaments. An emphasis is placed on developing fundamental skills, sportsmanship and self-esteem. Opportunities are also available for campers to watch movies and play in the game room.
All Pro Basketball Camp
All Pro Basketball Camp (no website; 4900 NE 47th St., Ft. Lauderdale, FL 33308; 954-771-5509) is located in Ft. Lauderdale and is available for children ages 6 to 15. The camp takes place at Cardinal Gibbons High School, and instruction is offered from NBA and high level college players and coaches. Players of all skill levels can attend the camp, and they are encouraged to bring both snacks and water to stay hydrated.
Miami Heat Summer Basketball Camp
The Miami Heat (nba.com) basketball team offers three one-week basketball camps during the month of June in Hollywood, FL. The camp is held at South Broward High and is available for basketball players ages 7 to 16. NBA players and coaches instruct players at the camp, and the camp includes individual instruction, lectures, prizes and awards, and camper evaluation. Camper insurance is also offered, and the Snack Shack is available for lunch each day.
Photo Credits
Creatas Images/Creatas/Getty Images