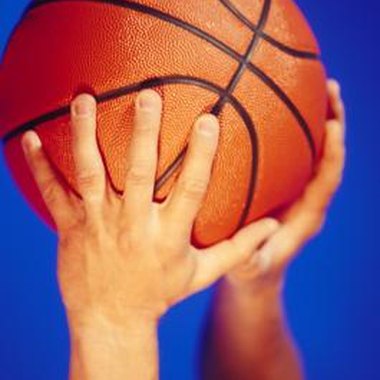 Youth basketball camps provide kids with an opportunity to hone their dribbling, passing and shooting skills while learning the importance of physical fitness and teamwork. These camps are taught by basketball professionals from coaches to former players. Kids living in and near Riverside, California, have a number of youth basketball camp options available to them.
Tom Marumoto Shooting and Offensive Skills Basketball Camp
Tom Marumoto is a basketball instructor who has taught fundamental basketball skills at the youth, high school, collegiate and professional level for more than 20 years. His Shooting and Offensive Skills Basketball Camp (marumotobasketball.com), held annually in late July at Southern California area high schools, focuses on teaching kids shooting, ball handling and dribbling, footwork and body balance, passing skills, mental focus and decision-making, and individual and team concepts. There are two camps to choose from, one for grades four through eight, and one for high school students, grades nine through 12.
Marumoto Basketball Academy
Tom Marumoto also offers off-season basketball clinics for both boys and girls to refine basketball skills learned in his basketball summer camps. These clinics are taught in small group sessions, allowing for more individualized training. In addition to basketball skill-set training, the clinics also focus on strength and conditioning designed for off-season health and skill maintenance. Classes are taught at Southern California area high schools on weekdays and weekends, by appointment.
Big Bear Sports Ranch
Located in an idyllic and isolated mountain setting, Big Bear Sports Ranch (bigbearsportsranch.com) offers four summer basketball camp sessions for youth basketball players. Up to 40 former high school and college basketball coaches teach kids passing, dribbling, shooting and teamwork skills designed to improve players' overall basketball game in a fun and relaxed setting. Campers have the option to stay in residential housing throughout the camp.
NBC Complete Player Basketball Camp
Located at Azusa Pacific University in Azusa, California, the NBC Complete Player Basketball Camp (nbccamps.com) teaches individual offensive, defensive, shooting and team skills to campers ranging from advanced beginners to Division I college prospects. Players are separated into teams and groups depending on age and skill set but should be prepared to play hard for up to eight hours a day. NBC also offers Junior Camps for beginners to the game. Campers stay in residential dorms in the Complete Camp, though Extended Day Camps are also available for students looking to save money on room and board.
Photo Credits
Goodshoot/Goodshoot/Getty Images