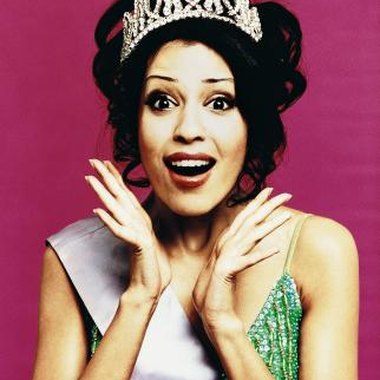 If you'd like to put on a pageant in your town, it can seem overwhelming. You're putting systems in place for the first time. You're dealing with a number of sponsors, contestants and volunteers. And of course, there a number of basic rules you're expected to follow. If you're a strong leader, though, you can manage an event of this magnitude, especially if you have the support of your community and a strong team around you.
Find Your Team
Put together a group of people to assist you in your planning. This committee will be able to help you with creative aspects of the pageant, like the entertainment and ideas for local sponsors. But they will also be able to handle administrative tasks so you don't have to juggle all the logistics. Set clear expectations for everyone by designating roles like publicity, secretary and treasurer.
Create Schedules
Choose the date for your pageant, and make sure you have plenty of time for planning. It's best to plan at least six months in advance. Set up a schedule so your team can meet all their deadlines comfortably. Also, create a schedule for the event itself. Pageants usually take place over several days and are filled with orientation, mixers, meals with parents and of course, the pageant night.
Find Sponsors
Pageants are a chance for the community to come together to support young women and their aspirations for future professions, not just their beauty. With that mission in mind, seek out local businesses to sponsor a contestant by helping her purchase what she will need for the pageant. Also, ask sponsors to donate toward the scholarship fund for the winner and runners up.
Find Judges
Judges for your pageant should be a mix of men and women and a mix of ages. Choose individuals who exemplify integrity and who are strong leaders in your community.
Advertise
To find contestants to compete in the pageant, advertise in your community. Put up flyers at local businesses. Ask sponsors to help you advertise. Also take advantage of social media by creating a Facebook page for the pageant.
Be Creative in Selection Process
Choose contestants who exemplify more than just good looks. Seek out girls with strong professional ambitions and social justice interests. This will not only add diversity to your line-up of girls, it will also get the community excited about attending the event because it will be a refreshing change from the standard beauty pageant.
References
Photo Credits
Digital Vision./Digital Vision/Getty Images