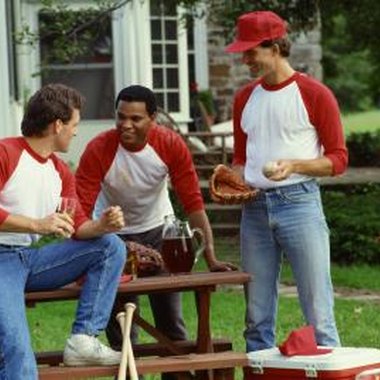 You will be a hit with your friends if you host a baseball-themed party. Invite your friends to a baseball event complete with decorations, ballpark food, games and original party favors. Ask your guests to wear their favorite baseball jersey and to put on their game face before they walk into the party.
Decorations
Decorate with baseball-related items. Even though it's an adult party, it doesn't mean you can't get creative. Baseball player wall decals, pennants, streamers in your favorite team's colors and balloons shaped like baseball caps all are acceptable for an adult baseball party. For a table centerpiece, use a clear vase half-filled with sunflower seeds or a few baseballs. Stick a dowel in the center and attach a small pennant of your favorite baseball team. If your party is outdoors, purchase green turf and create a baseball diamond in your back yard, complete with bases. Turn each base into a specific party area. For example, one station could be for food, the other for activities and another for cake. Leave home plate for socializing and lounging.
Food and Beverages
No adult baseball party is complete without beer. Place the beer in a cooler to chill before the guests arrive. Hot dogs can be served in a buffet station, complete with chili, onions, cheese, and all of the condiments you can think of. Add in party-size bags of peanuts or popcorn, and offer soft pretzels and pizza. Serve anything sold in stadium food stands. Think Cracker Jack!
Activities
Complete your party with a game of baseball. If your guests aren't up to a competitive game, practice pitching and batting skills. Have a home run derby to see who can hit the ball over the fence or past a certain marker. Set up trash cans and have a "golden arm" contest; have your guests try to throw a ball into the trash can. Or, invite everyone to a local baseball game and then invite them back to your house for the party.
Party Favors
Don't let your guests go away without a souvenir -- just like at a real ball game. If you're willing to really splurge, surprise guests with tickets to the next local baseball game. If you're budget is a little less substantial, think novelty gifts such as bobblehead figures. Make souvenir DVDs of memorable games or baseball events and distribute them. Edible party favors, including shredded chewing gum and Cracker Jack, are among other budget-friendly favors.
Entertainment
During the party, you're going to need some background entertainment. Turn on a few television sets so guests can watch the big game. If there are no games scheduled, play DVDs showing classic baseball game or movies. Set out baseball card albums or baseball magazines for guests to enjoy.
Photo Credits
Jupiterimages/Photos.com/Getty Images