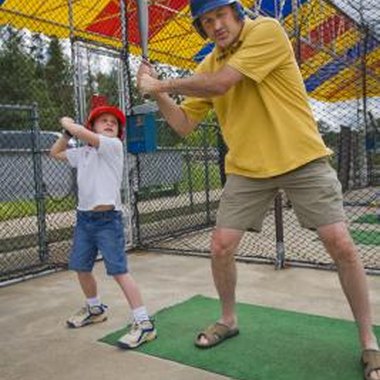 Baseball and softball players looking to improve their hitting skills will find plenty of batting cages in South Carolina. The state, which is home to more than 4.5 million residents and countless youth baseball and softball leagues, offers everything from indoor practice facilities to outdoor cages at family fun centers. Hitters can choose the cage that best fits their skill level and price range.
Batter Up
Batter Up (batterupmountpleasant.com) in Mount Pleasant provides more than just the typical batting cage experience. In addition to hitting help, this indoor facility offers defensive, throwing, pitching and running instruction. As of August 2011, Batter Up offers a 15-pitch round in the batting cage for $2.50. Special rates are available for multiple rounds and group or team cage rental. The facility also offers video analysis to let hitters examine their swings and make adjustments.
Coastal Baseball Academy
Located in Myrtle Beach, the Coastal Baseball Academy (cbamb.com) specializes in lessons for every aspect of the game. The facility also offers a team cage rental program. As of August 2011, a team can rent a batting cage for an hour for $100. This includes use of the academy's equipment and various cage options.
Batters Box
Batters Box (battersboxhhi.com) in Hilton Head Island features three multi-use tunnels with fully adjustable pitching machines. Hitters can face a variety of pitching speeds and can receive batting instruction from staff members. Pitches come every seven seconds and hitters shag their own balls after each round. As of August 2011, a round of 100 baseballs costs $10. Rentals and monthly memberships are available for dedicated hitters.
Frankie's Fun Park
Frankie's Fun Park (frankiesfunpark.com) has South Carolina locations in North Charleston, Columbia and Greenville. In addition to a baseball batting cage, Frankie's Fun Park offers mini golf, a rock wall, arcade and bumper boats. This outdoor facility is available for all ages, although kids under 6 must be accompanied by an adult. Bats are also provided; batters must wear helmets. As of August 2011, batters receive 20 pitches for $2.
Photo Credits
Creatas Images/Creatas/Getty Images