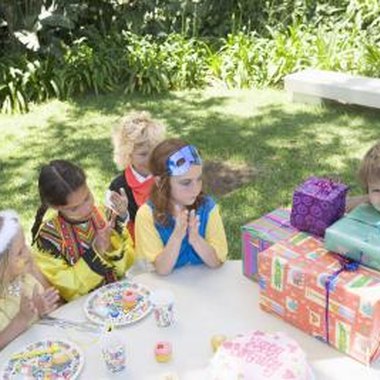 Whether you are hosting a birthday party or a summer get together, or celebrating a school unit on farming or agriculture, a barnyard-themed party may be the way to go. Host a barnyard party on a farm, in your backyard or at a playground or park. There are various themes for a barnyard party, which children are sure to love.
Old McDonald
Host an Old McDonald-themed barnyard party. Decorate a garage, pavilion or other outdoor building with straw and hats. Fill a wheelbarrow or red wagon with straw and place it at the entrance for guests to deposit gifts if the event is a birthday party. Ask guests to appear in costume, wearing overalls and boots. Distribute cowboy hats for party favors. For a young children's party, sit in a circle and sing "Old McDonald" and other barnyard songs.
Charlotte's Web
Host a "Charlotte's Web"-inspired barnyard party. Use polyester filling to hang webs from corners and doorways. Invite guests to appear in costume as characters in the book. Award a prize for the best costume for each character. For a fun, book-inspired activity, have guests decorate a cupcake with the words of the spider's webs, such as "Terrific!" or "Some pig!" In addition, fill the bed of a truck with hay, like the character Avery's truck, and take kids for a hay ride.
Square Dance
Host a square dance for a barnyard-themed party. Decorate with straw and colorful balloons. Invite guests to come in costume with flannel shirts, denim and cowboy boots. Distribute bandanas to guests as they arrive. Teach a group square dance or invite party-goers to choreograph a square dance to perform in a competition. Award the winning couple or group a prize, such as a cowbell or other farm-themed gift.
Horse Rides or Petting Zoo
For a fun barnyard-themed party with real animals, host a horseback or pony riding party. Take guests to a stable or farm with horses. Invite a local equestrian to give a short presentation about horses and then take the children on horseback or pony rides. Alternatively, take guests to a petting zoo or host a petting zoo by hiring a company that brings farm animals to birthday parties. Some companies bring goats, sheep, pigs, rabbits and ponies for kids to pet and feed. All you need is a field big enough to accommodate the animals. Make balloon animals such as cows, horses, sheep and geese. Play other barnyard-themed games, such as Pin the Tail on the Donkey.
Photo Credits
Pixland/Pixland/Getty Images