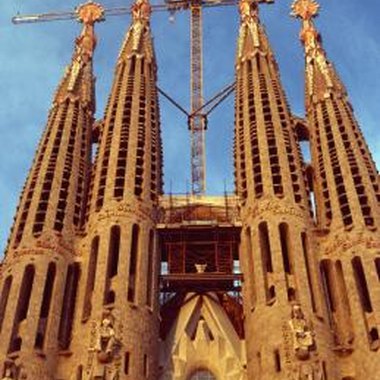 Barcelona is one of Europe's most vibrant and colorful cities. The capital of Catalan Spain, with its toes in the Mediterranean, has block after block of fabulous buildings designed or inspired by Antoni Gaudi, the architect of Modernisme (Spanish Art Nouveau). His amazing Sagrada Familia Church was still under construction in 2010, 84 years after Gaudi's death. Today, Barcelona still takes the lead in architecture, fashion, food and design. Its international airport at Prat de Llobregat is sleek and modern. It's surrounded by new hotels. Those closest to the airport keep up Barcelona's architectural traditions with striking, modern designs.
Tryp Barcelona Aeropuerto
The Tryp Barcelona Aeropuerto Hotel is a stunning modern building about three quarters of a mile from the airport. It has 190 rooms, nine suites and four disabled rooms done in a soft yet minimal style. An unusual feature of this hotel is a selection of special purpose rooms. Premium Woman rooms have special bathroom toiletries, pampering cosmetics and treatments. Fitness rooms have treadmills, elliptical trainers or exercise cycles and offer guests a free fitness kit with t-shirt, exercise mat, mineral water and two extra towels. Family rooms come with gifts for children and Narnia character themes.
Renaissance Barcelona Airport Hotel
This is another of Barcelona's startlingly modern hotels. Its central feature is a large, drum-like cylinder that contains the lobby and huge overhead projection screens. The hotels 255 rooms and three suites are arranged on four floors that spread like curving wings. Rooms are upscale and contemporary with ultra modern bathrooms. An outstanding feature of this hotel is its large outdoor swimming pool with hydromassage jets.
Hotel Ciutat Del Prat
Hotel Ciutat Del Prat is a 130-room boutique hotel about a mile and a half from the airport with luxury rooms decorated in a more traditional, baroque Spanish style. Rooms are spacious and have polished wooden floors and gracefully curved occasional tables and chairs. The stylish bathrooms combine a variety of different colored marbles. All rooms are air conditioned, which is not always the case in European hotels.
Hotel Front Air Congress Aeropuerto
This large, 229 room hotel is modern and well-equipped for both business and leisure travelers. Rooms are styled as "Urban" with sleek, minimal decor or "Premium" with more traditional furnishings. The hotel as has 2000 square meters (more than 21,500 square feet) of meeting and business center space and an equal amount of space devoted to leisure facilities. The hotel's huge SpaGym Natural is divided in three areas--water, treatments and fitness. The water area has a whirlpool, waterfalls, water jets, a cold water plunge pool, special showers offering contrasting sensations, a Finnish sauna, steam room, heated loungers, sun loungers and water beds.
Resources
Hotel Tryp Barcelona Aeropuerto; Parque de Negocios Mas Blau II;Prat de Llobregat; 011-34-93-3781000
Renaissance Barcelona Airport Hotel;
Pl. Volateria, 3;Poligono Mas Blau;Prat de Llobregat; 011-34-93-378-32-00
Hotel Ciutat Del Prat;Av. Remolar; 46Prat de Llobregat; 011-34-93-378-83-33
Photo Credits
Stockbyte/Stockbyte/Getty Images