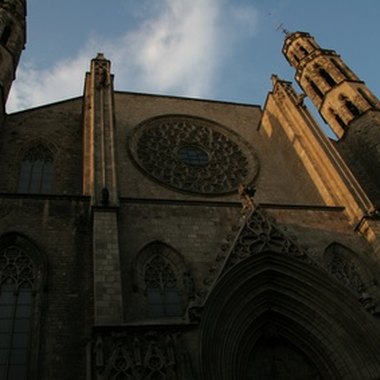 Founded around 230 B.C. by the Carthaginians, Barcelona fell victim to invaders including Visigoths and Muslims for nearly 1,000 years, when the city began to establish its own unique, Catalan identity. The Gothic Quarter–or Barri Gotic–contains narrow, winding alleyways crowded by medieval Roman village buildings and modern structures. Thronging tourists, chic Spaniard youngsters and artisan vendors populate the quarter, which offers abundant shopping and plenty of restaurants slinging seafood paella and fruit-soaked sangria. Hotel guests should take special care with their belongings; petty theft is common in Gothic Quarter streets.
Clean and Quiet
The Gothic Quarter and nearby Las Ramblas shopping area can be quiet boisterous, with street performers' squawking parrots, late-night party kids, honking cars and lively street music. It's an exhilarating scene, but returning to a clean, comfortable Gothic Quarter at the end of a long sightseeing day (or discoteca night) can feel rewarding, according to Lonely Planet.com. The Barcelona Center House hosts just eight rooms equipped with bathrooms and kitchens, perfect for whipping up a simple meal with fresh goods haggled from farmers' market vendors that morning. Air-conditioning, TV sets, warm and knowledgeable hosts and a private balcony make this tidy establishment a restful respite from Barcelona's high energy.
Medieval Mansion
Part of the Gothic Quarter's mysterious appeal are the gloomily elegant buildings dating back to the medieval era, so some travelers may like the idea of staying in a Barcelona hotel located within a medieval mansion. Barcelona's Neri Hotel features exposed timber, cut stone and a garden roof deck, according to Lonely Planet.com. Rooms are large, spare and fit with flat-screen TVs, artwork and infrared-lit bathrooms. Amenities include a small hotel library with daily newspapers, rooftop shower for cooling off and on-site gourmet restaurant. Free newspapers and wireless Internet access, in-room massages and shoe polishing services are available.
Modern Glamour
Pairing historic architecture with modern vibes, the soundproofed Hotel Raco Del Pi may be insulated from the bustle of Barcelona's Gothic Quarter, but the location is just right. Surrounded by some of the quarter's most picturesque alleyways and medieval buildings, the Hotel Raco Del Pi comforts guests with modern perks like free wireless Internet access, mini-bars, digital TV sets and a bountiful breakfast buffet, according to Lonely Planet.com. Bathrooms contain hand-held showerheads, shaving mirrors and scales, for those intrepid travelers interested in noting the effects of Spain's famed tapas selections.
Inexpensive Hostel
Barcelona's Gothic Quarter offers hostel options for travelers looking to save money on accommodation or mingle with other travelers. Itaca Hostel, founded by traveler owners in 2001, holds just 30 guests in rooms that sleep six, eight or 12 people, according to Lonely Planet.com. Located near Barcelona's famous Catedral, Itaca Hostel rooms each feature a balcony and guests can use the hostel's kitchen or purchase inexpensive breakfasts. Other amenities include wireless Internet and security lockers.
Photo Credits
santa maria del mar image by michael luckett from Fotolia.com