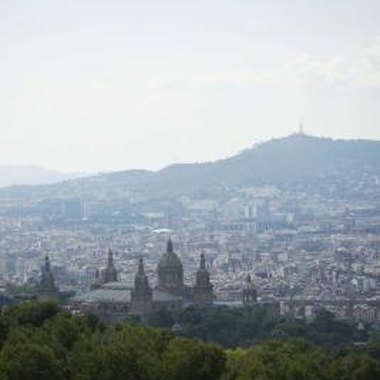 From skyscrapers with soaring waterfront views to cozy boutique hotels in the less-congested beach areas to the east of town, there are a range of options for travelers looking to stay near the water in Barcelona. The recently-opened W Hotel is the only hotel with its own beach entrance, but there are several hotels just a short walk from shore.
W Hotel
Open since 2009, the W Hotel is the first in Barcelona with direct access to the beach. Located in the up-and-coming Passeig de Joan de Borb waterfront district, the hotel is also near lots of shops, restaurants and theaters. Rooms come with floor-to-ceiling windows and all the amenities you'd expect from a W hotel, including pillow-top mattresses, high-quality linens and 32-inch flat-screen TVs. The hotel also houses a spa, a bar with soaring skyline views, and an infinity pool that stretches out towards the sea.
Hotel Arts Barcelona
This beachside hotel occupies 33 floors of one of Barcelona's largest skyscrapers and is owned and operated by the Ritz Carleton chain. The hotel is just a block away from the beach and features one of Barcelona's few beachside pools. Rooms come with panoramic seaside views, 24-hour room service, Bang & Olufson audio equipment, and separated bathrooms. The hotel is also known for its large collection of contemporary art, its Michelin-rated restaurant, and its stunning rooftop spa with cityscape views.
Vicci Maritimo Hotel
This hotel is close to the quieter, lesser-known beaches on the east side of town, making it a good choice for travelers looking to get away from it all while enjoying rooms with stellar ocean views. Rooms are furnished with modern touches, and all have light-filled en-suite bathrooms. Breakfast is served in a Japanese garden, and the hotel also has a restaurant serving modern Mediterranean fare. Avid shoppers will appreciate nearby Diagonal Mar shopping center, one of the largest in Barcelona.
Grand Marina Hotel
While not exactly on the beach, this hotel can still boast of sweeping ocean views and a great location near the port of Barcelona. Designed by the same architect as the Louvre, the Grand Marina is frequently a temporary home for traveling art exhibitions and looks a bit like a luxury cruise liner that decided to dock permanently on the Barcelona shore. All rooms come with Jacuzzis and balconies. Especially luxurious is the presidential suite, on the top floor, which has panoramic views of all of Barcelona.
Photo Credits
Jupiterimages/Polka Dot/Getty Images