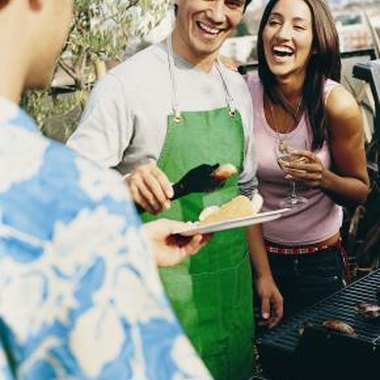 No matter how formal a wedding is going to be, the pre-wedding showers should be slightly more casual and relaxed. A barbecue shower is ideal during the summer months. Since guests will spend the whole time in the backyard, the host doesn't even have to clean her house. This type of shower encourages every guest to slip off her shoes, pop open a drink, and celebrate the upcoming wedding in comfort.
Brands
A metal brand is usually used by cattle farmers to mark their cows, but today meat lovers can buy their own brands to mark their steaks with their own initials. To personalize a barbecue-themed shower, order a metal brand that's shaped into the names of the bride and groom or the first initial of the couple's last name. Press the brand into a black stamp pad or paint it with black paint, then press the brand into tablecloths, signs and gift bags to mark them with the couple's names or initial.
Drinks
No barbecue is complete without frosty cold beverages. Since nearly every guest will be carrying around a bottle of beer, soda or water, make them part of your decorating scheme. Make paper sleeves for the bottles by writing the couple's names and wedding date onto scrapbook paper. Instruct the bartender to wipe off each beer as it comes out of the cooler, then wrap and tape a paper sleeve onto the bottle. For a slightly fancier barbecue, order plain beer or soda glasses in bulk. Decorate them with paint, then give one to each guest as a keepsake. Guests can drink out of them at the party, then keep the party going at home.
Tables
Red-and-white checkered plastic tablecloths are fine for a backyard hoedown, but if you want your barbecue shower to be a little more upscale use real tablecloths instead. Linen cloths will be too formal, so stick with the red-and-white theme and use cotton cloths. Cover the tables in red cloths with white napkins or vice versa. When you're choosing centerpieces, keep in mind that guests don't want to dig into a messy pulled pork sandwich while staring at a stuffy arrangement of roses. Make centerpieces by arranging barbecue tools in canisters or vases.
Flowers
A few well-positioned bundles of flowers take a backyard barbecue from casual to classy. Brightly colored flowers make the most visual impact so you won't need to buy as many of them. Rather than buying fancy pots and planters from a garden store, arrange flowers in rusted buckets and pails. If you don't have any gathering dust in the corners of your garage, you'll find plenty at a thrift store. Arrange flowers next to the buffet table and around the perimeter of the party area.
Photo Credits
Digital Vision./Digital Vision/Getty Images