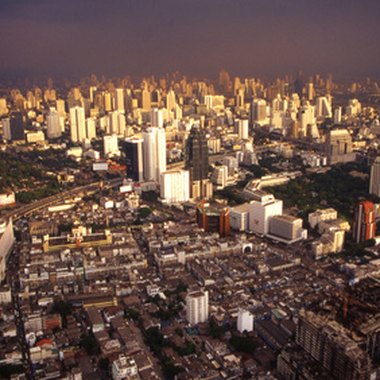 As Bangkok is one of the main travel hubs for Southeast Asia, a buzzing hive of regional business and a major tourist destination, it should come as no surprise that the city is stuffed with nearly 500 hotels. These range from some of the most famous and luxurious hotels in the world to humble, cheap guesthouses. Bangkok's supply is so ample that it is sometimes a problem to match the hotel with the right features to the right part of the city.
Considerations
The city of Bangkok covers over 600 square miles; and many points of interest to travelers, either for business or pleasure, are located quite far apart. Tourists with an early morning flight face a 60- to 90-minute drive from the main tourist area along the Chao Phraya River, while business travelers staying at the airport will find themselves a 30- to 45-minute drive from the main commercial area in Sukhumvit. Distance and traffic are serious obstacles in Bangkok, and travelers choosing lodgings should keep these in mind.
Hotel Novotel Suvarnabhumi Airport
The area around Bangkok's Suvarnabhumi International Airport is not very pedestrian oriented and is lacking in restaurants and attractions, so guests with an early morning flight are unlikely to go out into the immediate neighborhood. That makes the airport Novotel's four restaurants, a pool bar and an atrium wine and cigar bar welcome amenities. The airport is only a few minutes' drive from the hotel, which operates a 24-hour shuttle service with 10-minute departures.
Sheraton Grande Sukhumvit
Although the Sukhumvit Road is a major business district in Bangkok, it is also a noisy neighborhood crammed with girlie bars, making the Sheraton's 33-story, 445-room hotel as much of a retreat from Bangkok's chaos as a top luxury hotel. The hotel is sometimes criticized for being impersonal, but it comes with an "Exceptional" rating from Frommer's and has its stand-out touches, such as the 10th-floor swimming pool decorated to resemble a tropical lagoon. The Sheraton also has its own covered walkway to the local Skytrain station.
Buddy Inn
Travelers on a budget usually head for the Khao San Road tourist ghetto, where the Buddy Inn presents a boutique hotel experience at reasonable, mid-range prices. A New York Times Travel Pick and profiled by both Fodor's and Frommer's, the hotel offers the same proximity to tourist sights and nightlife as the flophouses of the Khao San district yet with some comfort and character. The rooms are bright and clean and are appointed in wood and wicker, and the hotel has a stylish rooftop pool and sauna.