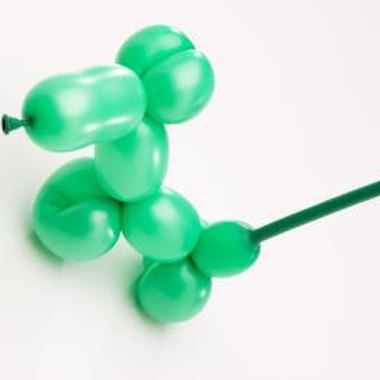 There are many things that can be done with balloons to create inexpensive and festive decorations for a birthday celebration. When decorating for a young boy's birthday party, look for balloons in his favorite color or balloons printed with something he loves, such as firetrucks or characters from his favorite movies. There are ways to make some of the balloon decorations entertaining as well as decorative.
Special Chair
A batch of helium-filled balloons tied to the birthday boy's chair with ribbon not only helps decorate the room but also makes him feel important on his special day. For an added touch, purchase special balloons that say "Birthday Boy" or that have his age printed on them. If you plan on splurging on a few higher-quality balloons, the birthday boy's chair is the perfect place to put them.
Balloon Animals
If you or someone you know can make balloon animals, or if you are willing to learn how, then include them in your decorations (see Resources). They can be placed on a mantel, bookshelves, on top of the television and on any other flat surface. You could even attach them to the walls. When the party is over, send each child home with a balloon animal of his own as a party favor.
Balloon Wall
If your home is designed in a way that guests must walk through a hallway to enter your home, or if there is a hallway in a central area of your home that the children will have access to, fill it with hanging balloons. Tie long pieces of ribbon to the balloons, attach the ribbons to the ceiling and let the balloons hang down. Use many balloons and hang them from different heights for a curtain effect. The children will have a grand time running through the balloon wall, making it double as a decoration and a source of entertainment.
Balloon Weights
Balloon weights, which are used to anchor helium-filled balloons, can be just as decorative as the balloons themselves. They come in many styles, so you are almost guaranteed to find some that match the theme of your party; they can be found online or at a party supply store. Use balloon weights to create balloon bouquets for the corners of your home and centerpieces for your dining room and gift tables.
Photo Credits
Jupiterimages/liquidlibrary/Getty Images