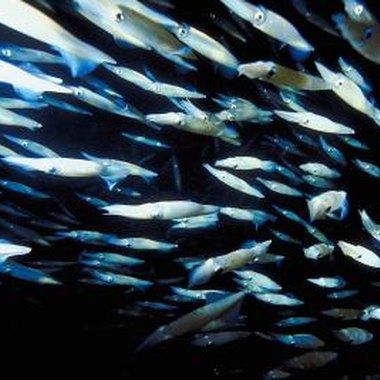 Baiting a fishing hook with squid takes a bit of practice in order to properly run a hook through the squid's body. There are many types of squid in the world, but not all are suitable for bait--most are just too large. Use calamari squid, which grow between 4 and 8 inches long. Frozen squid are perfectly acceptable to use as bait, so don't worry about finding fresh squid.
Step

1
Remove the squid from the freezer and thaw it in a bucket for at least 6 hours before baiting. Do not bait the hook until the squid is completely thawed.
Step

2
Insert the hook through the top of the squid's body, where the point begins to form above the squid eyes.
Step

3
Position the squid so it aligns with the hook, top to bottom. Keeping the squid straight helps prevent it from sliding off the hook once baited.
Step

4
Insert the hook back through the body in the opposite direction about an inch below the original point of insertion. About an inch of the squid's body should be between the entrance and exit points of the hook.
Photo Credits
Jupiterimages/Photos.com/Getty Images