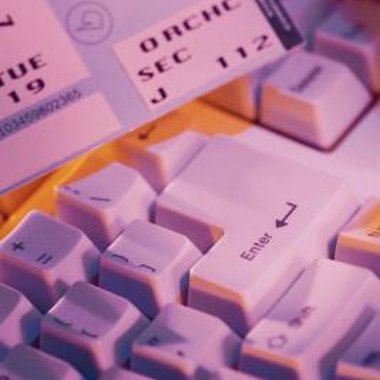 No matter what type of party or event you are planning, you can create themed invitations that provide guests with the pertinent information as well as a sense of what type of celebration to expect. The invitation is the first impression your guests have of the event, so make it memorable. An invitation that looks like a backstage pass sets the stage for excitement.
Wedding Invitation
Create a special wedding invitation that resembles a backstage pass. On one side of the pass, have a photo of the two of you printed with your names and the words, "The I Do Tour." The back of the invitation pass can provide the details of the wedding ceremony: location, time and RSVP information.
CD Invitations
Create a play list for the party. For example, if the theme for your preteen daughter's party is teen pop stars, burn her favorite songs onto CDs, put the CDs in cases and insert a cover featuring a photo of your daughter, the phrase "Rock On Backstage with Jannie" and the party details. Give a CD invitation to each person on the guest list; not only does the CD serve as the invitation but as a party favor, too.
Backstage Pass Lanyards
Using an index-sized piece of card stock, print the party information on the back. On the front, write a phrase appropriate to the party you are throwing, such as "Backstage Pass to Bob's Birthday Bash." Punch a hole in the top of the card stock and lace a piece of string or a ribbon through it or attach it to a lanyard, so it can be worn around the neck. Hand these invitations out to the people on your party list.
Concert Ticket
Create a concert ticket invitation. On the front write the name of the concert, such as "Jenny's 40th Birthday Bash," along with a photo of the birthday girl or an image from a concert. At the bottom of the front write "Backstage Pass." Place the date, the venue and the time on the back of the card to make it look like a concert ticket, complete with a backstage pass.
Photo Credits
Comstock/Comstock/Getty Images