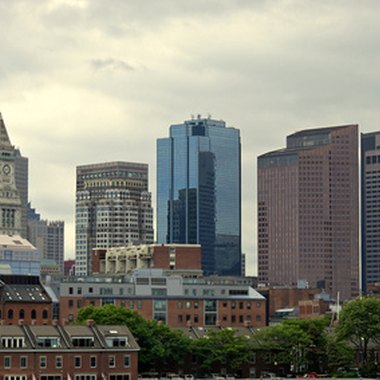 Backpackers in search of a clean bed, basic bathroom facilities, and a place to store their rucksack while they sightsee have multiple options in Boston. Low-cost lodging isn't everyone's cup of tea, and Boston has a fair share of upscale accommodations, but backpacker lodging appeals to adventurous travelers who don't mind sharing a bathroom or sleeping in a bunkroom.
Hostelling International Boston
Hostelling International's Boston location provides guests with computers and Internet access in the hostel's lobby. Reasonably priced six-bed dorm rooms and moderately priced private rooms share bathrooms outfitted with bed linens, blankets and pillows. The hostel has both sex-segregated and coed dorms with individual lockers and reading lamps. Complimentary continental breakfast, served daily, includes coffee and pastries. Members of Hostelling International receive a discount, but nightly memberships are available for a small fee. The hostel has a coin laundry, snack room and common areas. Hostelling International also maintains a property near Kenmore Square that's only open during the summer.
40 Berkeley
40 Berkeley is a moderately priced upscale hostel offering both single and dorm rooms. Each floor of the building has a bathroom for the shared use of guests on that floor. Rooms have one, two, three or four beds, and room rates include full breakfast. Strangers don't share rooms, so guests renting a bed in a multiple-bed room must pay for the entire room. A large dining room, snack room and living room provide common areas. While rooms don't have televisions or phones, the hostel provides a TV room with DVD player and front desk message service. Guests must be at least 18 years old.
YMCA of Greater Boston
YMCA of Greater Boston's Huntington Avenue location offers budget-friendly rooms with linens included. Rooms have two or four beds and shared bathrooms. No meals are provided, but the Y has free Wi-Fi and computer terminals for guest's use, laundry facilities and bicycle parking. From mid-August through mid-May, room rentals are restricted to men. Huntington Avenue YMCA has a swimming pool and a gym equipped with cardio machines, basketball courts, a virtual cycling studio and free hydromassage.
Milner Hotel
Single rooms at the Milner Hotel offer an economical alternative to shared dorms in hostels in downtown Boston. Rooms are small by American standards, and the amenities are basic, but the room rate includes free Wi-Fi and continental breakfast. Guests have access to the nearby YMCA pool and gym for a small fee. The hotel also has doubles, queens and suites at higher rates, but Milner Hotel's single rooms provide the most value for your dollar.
Photo Credits
boston skyline from harbor image by Stephen Orsillo from Fotolia.com