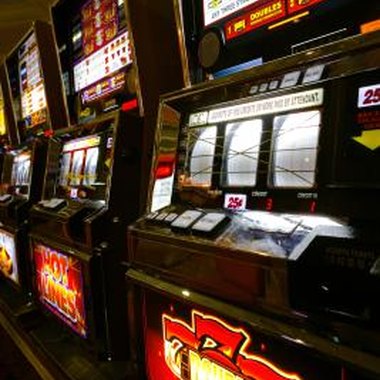 A bachelorette party unifies the bride-to-be and her female friends and family members in the days preceding her wedding. Unlike the bridal shower, a bachelorette party typically features games, prizes and party favors of an adult nature. While some brides-to-be dwelling in the Mount Pleasant, Michigan, area may enjoy a bachelorette party at home, the city features many opportunities for a party out on the town.
Soaring Eagle Casino
Mount Pleasant is home to the Soaring Eagle Casino (soaringeaglecasino.com), which also provides a hotel, gaming corner for non-gamblers, several restaurants and gift shop. Events at the casino may include appearances by comedians, actors or musicians. After a night of gambling, celebrate with dinner, dessert and party favors inside one of the casino's many restaurants. View the Soaring Eagle Casino website for the contact information for the individual restaurants.
Spas
Invite your guests to an afternoon or weekend at a spa in Mount Pleasant such as the Ambiance Salon & Day Spa (ambiancesalonanddayspa.com); Water Works Salon and Spa (waterworkssalon.com); or Spa Nails (mpspanails.com). A full-service spa usually features waxing services, manicures, pedicures, massage services, body wraps and facials. Afterward, unwind at a bar or restaurant, or invite your guests home to watch a movie.
Nightclubs
There are a few nightclub options in Mount Pleasant, including the SIX Lounge (thesixlounge.com) and Passion Parties by Margo (no website; 609 South Arnold St., Mount Pleasant, MI; 800-372-5163). Guests can buy tobacco products, drinks and the use of hookahs at the nightclub. Karaoke nights are sometimes held at these nightclubs. Call ahead to reserve tables at nightclubs, if possible. Inform the club that you may be bringing outside food or beverages.
Psychics and Tarot Card Readers
Bring a supernatural element to your bachelorette party -- hire a tarot card reader or a psychic to do readings for you and your guests. Options include Psychic Readings by Tia (no website; 18961 Windingbrook Road, Big Rapids, MI; 231-796-1662) and Heaven's (no website; 3412 S. Huron Road, Bay City, MI; 989-686-3980), a fortune-telling business. Both locations are about an hour from Mount Pleasant. You can also use an Ouija board, tarot cards, palm reading guide, crystal ball or other gadgets to create a mystical bachelorette party without the use of a psychic or tarot card reader.
Photo Credits
Photos.com/Photos.com/Getty Images