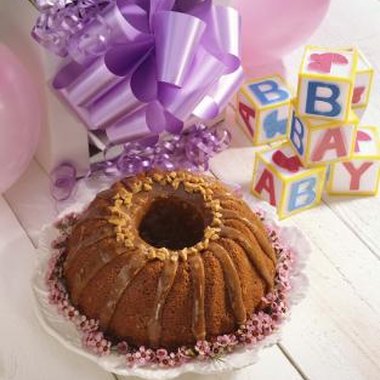 A much anticipated event for parents-to-be is the baby shower. Friends and family gather to celebrate the baby and parents by bringing gifts. When hosting a baby shower, remember that the shower invitation gives guests the first impression, and explains important details. Set the shower's theme and possibly the nursery decor with baby shower wording. Introduce the baby's gender and name, if the parents wish, in the invitation. Finally, indicate where the parents are registered.
Mom-Only Shower
Most commonly, baby showers honor the mother and the invitation is worded for women: "Before Michelle becomes a mom, let's fill her nursery with diapers, clothes, and rattles." However, some moms prefer to choose their child's clothing, and only want necessities: "Jane doesn't need much, just the basics. Join us with a bag of diapers or package of wipes." Add fun touches, such as instructing guests to bring a note card with a mothering tip for the new mom to read later.
Co-ed Shower
In modern times, shower guests often honor both parents. Include this information in the wording: "Everyone is welcome at Jane and Brian's co-ed baby shower for fun, gifts, and brunch." Some shower hosts encourage separate gifts for mom and dad: "Fellow fathers, bring the new dad appropriate baby gear. Seasoned mothers, shower the new mom with baby necessities." This makes males and females feel included and reinforces the idea that they will each bring something special to the party.
Known-Gender Shower
When parents share the gender of their baby, highlight it in the wording in addition to properly colored invitations: "A bundle of pink/blue will be arriving soon!" Include the nursery theme if possible: "Airplanes, cars, and trains adorn the nursery. We will shower the new little boy with necessities and toys. Join us on Sunday, April 13th." Some parents announce their child's name ahead of time. If so, include it in the invitation: "Let's prepare Cole's room and stock his closet at a shower on June 25th."
Gender-Neutral Shower
Some parents wait for the birth to learn of the baby's gender. Set the shower's gender-neutral theme with the invitation. For a yellow duck shower, mail a small rubber duck in a small cardboard box with an attached card announcing "Jill's Rubber Ducky Baby Shower." Print shower information on a small card, such as: "We are in love already, whether it be girl or boy!" If parents prefer to wait for gender-specific clothing, indicate that: "Necessities only, please, as mom and dad will wait to shop."
Photo Credits
Jupiterimages/Comstock/Getty Images