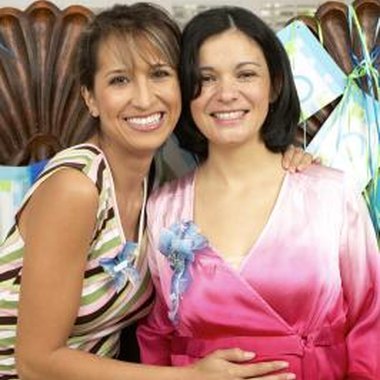 With all of the possible physical and emotional stresses of a pregnancy, you don't want to handle the craziness of planning a baby shower. Don't worry, you can hire a baby shower organizer. A baby shower organizer helps handle the stress of the event so close to your due date. While not many event planners specialize in baby showers, you have more options available than you might think.
Step

1
Ask a friend. While some people shudder at the thought of throwing a baby shower, many other people love the thought of throwing parties for friends. Send an e-mail to your collection of friends asking if anyone wants to help you out with your small event. BabyCenter.com says that the best organizers for baby showers include friends, family and coworkers.
Step

2
Trade with a pregnant friend. A pregnant friend is going to need her own baby shower in the near future, so you can trade baby shower planning with each other. She takes on the role of your baby shower and, later, you take on the role of planning hers. Just make sure your availability permits you to plan her shower. You don't want her asking for your help in the delivery room.
Step

3
Look in the phone book for a party planner. While some party planners get rather expensive, they take on the majority of the work, designing the event around your tastes. Whether you want golden cherubs as centerpieces or a French chocolatier to fill the diaper game diapers with fondue, a party planner knows where to get you what you want.
Step

4
Ask family members to throw your baby shower for you. Include mothers-in-law, other children and the baby's other parent. After all, your family cares about your well-being and most likely wants to create a memorable event. Just remember to thank family organizers with a gift, or you might get the cold shoulder at the next family holiday party.
Step

5
Ask a local restaurant. Many restaurants use event coordinators that can help you plan a small event by selecting drinks and food, planning the exact location and setting up a gift table. All you need to do is create invitations and get your gift registry together and you have an instant event.
Tips & Warnings
Unless you hire a professional, you may want to print out a planning timeline, such as the one found at Baby-Shower.com or at Baby Shower 101, and give it to your organizer.
Photo Credits
Creatas/Creatas/Getty Images