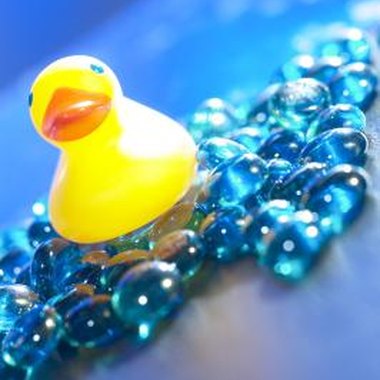 Yellow ducks are as synonymous with babyhood as baby blue and pink. They are gender neutral, reminiscent of bathtime fun and even have their own song. Yellow ducks can come in handy at a baby shower as decorations and party props. You can even incorporate them into a baby shower without having a bathtub at the party.
Musical Ducks
Musical chairs is a party game that includes music, moving from chair to chair and sometimes comic relief. Change the game to include rubber ducks and to amuse the guest of honor. Put a group of rubber ducks -- one fewer than the number of players -- in a circle. Have the guests stand around the circle and start playing a recording of "Rubber Duckie (You're the One)." Tell the guests that when the music stops, they must grab a rubber duck. The person without a rubber duck loses. Continue this, with one fewer duck each time, until there is a single winner. The winner can receive a prize or get to keep the rubber ducks.
Centerpieces
Yellow ducks can be centerpieces for the guest tables or food tables at baby showers. Fill clear plastic or glass bowls with water. Decorate the bowls with colorful rocks or glitter. Add enough rubber ducks to float freely on the water. Alternatively, use yellow rubber ducks as balloon weights. Tie them to the end of baby shower balloons and place them in the middle of the party tables.
Dessert
Use yellow ducks to decorate baby shower desserts, such as cake and cookies. Frosting ducks will work best for cookies. However, yellow rubber ducks can go on top of the cake. Buy an aluminum party basket in the shape of an old-fashioned bathtub. Fill the basket with trifle, "dirt cake" or sheet cake broken up and mixed with pudding. Cover the entire cake with whipped cream or whipped vanilla frosting, so it has the appearance of soap foam. Top it with a yellow rubber duck or two.
Gift Bags
Incorporate yellow ducks into gift bags by giving bath-themed gift bags to guests. Fill mesh bags with bubble bath, yellow rubber ducks and loofahs. Alternatively, give out gift certificates to a bath and skin care store. Tie them to the rubber ducks with yellow ribbon.
Party Attire
Sometimes it is fun to give mommies-to-be something goofy to wear at their baby showers. Items such as bathrobes with yellow ducks on them, yellow duck slippers and party hats with yellow ducks on them should suffice to be both silly and possibly useful in the near future. Bathrobes and slippers come in handy for maternity hospital stays.
References
Photo Credits
Hemera Technologies/AbleStock.com/Getty Images