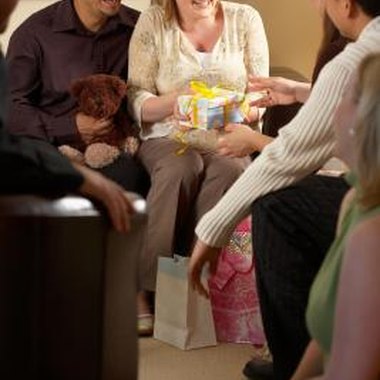 The increasingly popular Jack and Jill baby shower differs from the traditional shower in that both male and female friends, family and co-workers are invited to celebrate with the parents-to-be. Appropriate gifts for this type of shower include gifts for the baby or something the parents can use in the new role as mother and father.
Baby Apparel
Give expecting parents apparel to wear or for the new baby to wear as a Jack and Jill baby shower gift. Select baby items like onesies, pants, T-shirts, skirts, shorts, socks, bibs or hats that display messages about the child's parents. The baby apparel can read, "I love Dad" or "I love Mom." You can also give each parent an apparel item that displays his or her new role. Give each parent a T-shirt or baseball hat that says, "Mommy" or "Daddy."
Caffeine
The honored couple at a Jack and Jill baby shower can expect to get little sleep in the months after the new baby arrives. Present the parents-to-be with a decorative gift basket filled with caffeine-related items to keep the parents functioning the day after a sleepless night. Fill the basket with a pair of coffee mugs, a five pound bag of coffee and a gift certificate to one of the couple's favorite coffee shops like Starbucks.
Date Night Basket
The typical pair of new parents do not have a chance to go out for a night on the town or may not be ready to leave the new baby with a babysitter. The solution is to give a gift basket full of items that can provide the new parents with entertainment in the home. Give the couple a basket filled with DVDs, popcorn and board games. Another option is a bottle of wine (non-alcoholic if the mother plans to nurse), cheese, crackers and a gift card for a restaurant that offers a to-go menu.
Diaper Cake
Surprise a pair of parents-to-be with a useful diaper cake creation as a Jack and Jill baby shower gift. This conversation piece can be purchased online through a company like Diaper Cakewalk or handmade by rolling diapers into round, stacked tiers to appear like a cake. Each tier is wrapped in decorative ribbon or bows. Add toys like rattles, small stuffed animals or teethers to the ribbon. You can also add useful items to the diaper cake like baby powder, pacifiers or baby lotion.
Photo Credits
Jupiterimages/Photos.com/Getty Images