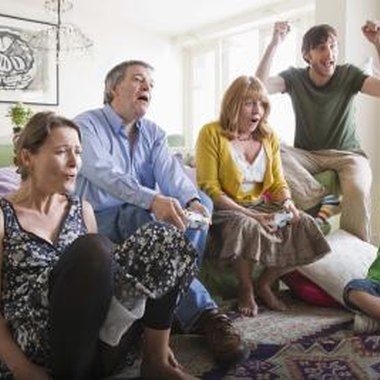 Gamers and geeks love to pass on their favorite hobbies to their children. If your favorite gamer has also become an expectant mother or father, your gift can help encourage that like-parent-like-child streak. By looking at what games the parents-to-be enjoy, you can either buy or make the perfect present that will be adored and used often.
Plush Toys
If you have a knack for crafts, you can try your hand at recreating the main character or a cute side character from one of the parents' favorite games as a toy for their baby. Depending on the character, the level of difficulty will vary and you must ensure there will be no choking hazard. However, there are many free patterns available online. You could also search in local toy stores and online for a doll from that game or from a more child-appropriate game, if necessary--just ensure it is safe for infants.
Clothes and Bags
Diaper bags, onesies and other cloth items can be customized through online or local screen printing shops to have gaming images that the parent will enjoy. A number of online shops also sell gamer or nerdy clothing for infants with images from a plethora of games, which most likely includes one of the parents' favorites. Parents will also appreciate receiving clothing that will fit when the baby is somewhat older, not just for the first three months.
Blankets
Gamer afghans and blankets can be found on handmade specialty websites--either sewn, knitted or crocheted--and some commercial websites, both of which can keep the infant warm while coaxing a desire to game. If made with yarn, you should check to see what type is used and if it will be soft enough, such as baby yarn. You can also make your own blanket, which is especially handy if the parents' favorite game was founded in the 8-bit era of games, as each pixel can count as a block in a blanket pattern.
Parenting Books
With the increasing trend of gamers and geeks being a part of popular culture, there are a number of parenting books that put an emphasis on those points. By going to your favorite bookstore or online retailer, you can find a variety of books aimed at gamers. This gift is most appropriate for parents having their first child, but a humor-bent book could also work for more experienced parents.
Photo Credits
Jupiterimages/BananaStock/Getty Images