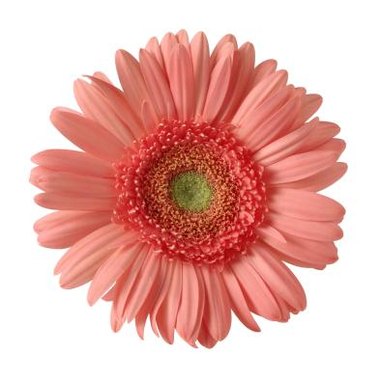 Generally, the rules of etiquette for a baby shower call for floral centerpieces that exhibit childlike whimsy and a delicate nature to represent the fragility and preciousness of newborns. It's important to note that when choosing floral arrangements, choose flowers that are not overly fragrant, as a mother-to-be's sense of smell can be extra sensitive during pregnancy.
Rubber Duck Centerpieces
Create a rubber duck centerpiece that features the heads of large gerbera daisies. Get a large glass bowl and fill the bottom with clear marbles. Fill the bowl with water and place rubber ducks in the bowl. If the bowl you are using is large enough, consider using big rubber ducks to represent the mom and dad and smaller rubber ducks to symbolize babies. Cut the heads of large gerbera daisies off of their stems and float the flowers in the bowl. The flowers should be a variety of colors to add to the bright and fun nature of this baby shower centerpiece.
Birthstone Floral Arrangements
Honor both the mother-to-be and the new arrival by building a floral arrangement that incorporates their birthstones. When choosing the container for your arrangement, add some fun by placing the flowers in a unique container. For example, instead of having one large vase, put eight glass baby bottles together in the center of the table and fit a small amount of flowers into each bottle. Add baby's breath to the flowers that match the color of the birthstones of the mommy and new baby.
Baby Animal Floral Arrangements
Add a sense of fantasy and baby joy to a floral arrangement by placing small baby animal cutouts into the bouquet. Use multicolored pipe cleaners and place them in the bouquet. Glue or tie cut cutouts of baby animals onto the ends of the pipe cleaners. Make sure the bouquet creates balance with the placement of the flowers and the animals.
Diaper Vase Centerpiece
If you have a large table at your baby shower, create a grand centerpiece by placing a large vase with flowers in the middle of the table. Wrap the vase with newborn-sized diapers. Place the first row of diapers around the bottom of the vase and tie a ribbon around it. Put another row of diapers on top of the first row and again tie a ribbon around it with the bow vertically on top of the bottom bow.
Photo Credits
Brand X Pictures/Brand X Pictures/Getty Images