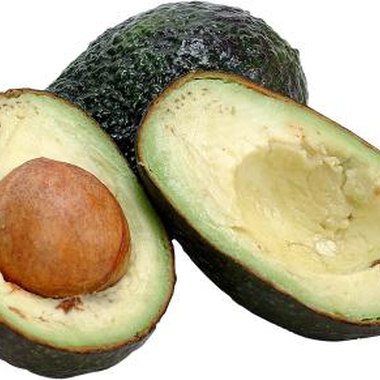 Avocados are tropical fruit native to Central America; however, the United States is the world's largest commercial producer. Since avocados require a warm growing climate, Southern California is the country's main growing region, producing up to 80 percent of domestic avocados, followed by southern Florida, Texas and Hawaii. In order to celebrate the annual harvest of the fruit, numerous locations host avocado festivals.
California Avocado Festival
The California Avocado Festival began in 1986 and is held annually in the town of Carpinteria in Santa Barbara County, the third-largest avocado producer in the country. This three-day festival is held in early October and features food, music and other attractions for the entire family. Each year, the festival also crowns an Avofest Royal Court featuring a King, Queen and more. Other events include a guacamole competition and largest avocado competition.
Fallbrook Avocado Festival
Located about 180 miles to the south of Carpinteria, Fallbrook's Avocado Festival celebrated its 25th anniversary in 2011. This one-day festival is held in mid-April and helps benefit the community of Fallbrook, California. During the festival, the town shuts its streets to car traffic and vendors create an open-air market in which visitors can taste food from local farmers and visit local businesses. The festival also hosts avocado culinary demonstrations, a guacamole contest, avocado ice cream and the Art of the Avocado Contest.
La Habra Heights Avocado Festival
The city of La Habra Heights, located north of Anaheim, also holds an avocado festival. About 10 years old, this one-day festival is held in late May in La Habra Heights' main park. This small festival features avocado experts, a gardening expo, handmade crafts and local food vendors. A section of the festival just for children features games, pony rides and face painting.
Hawaii Avocado Festival
A much newer avocado festival started in Hawaii in 2006. The Hawaii Avocado Festival, held on the Kona Coast of the big island, celebrates the avocados grown there. Featuring more than 200 varieties of avocado, this free festival is held in mid-February at the Amy B.H. Greenwell Ethnobotanical Garden. Besides avocado tasting and guacamole contests, the festival also features live music, an ecofashion show, a farmer's market and arts and crafts. A popular highlight is the chance to taste Honolulu pastry chef Hector Wong's seven-tier savory avocado-sweet potato pie.
Photo Credits
Zedcor Wholly Owned/PhotoObjects.net/Getty Images