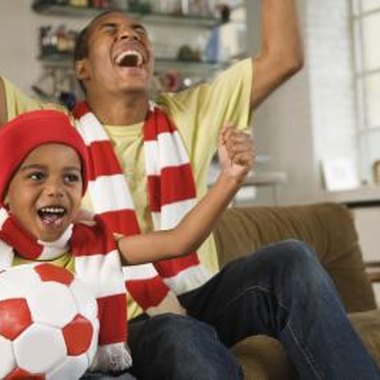 Located in northeastern Indiana, only one cable television provider services Avilla: Comcast. Avilla residents can choose between several programming choices by Comcast, one of the largest cable television service providers in the United States. The closest Comcast service center to Avilla is about a half an hour away in Fort Wayne, Indiana.
Basic Cable
Comcast's Basic Cable package is the least expensive tier of service and gives subscribers access to 18 channels. Among these stations included are Avilla's local CBS, PBS, ABC, FOX, NBC and CW affiliates, several public and educational access stations, Home Shopping Network and WGN America.
Digital Starter
The Digital Starter package includes all the local and public access programming available in the Basic Cable plan, in addition to about 60 other cable network channels. Among these are ESPN, MTV, Animal Planet, CNN, Univision and the Travel Channel. This package also includes Music Choice: 45 music channels that are commercial-free and cover an array of genres.
Digital Preferred and Digital Premier
Comcast's Digital Preferred plan includes everything the Digital Starter package includes in addition to an expanded lineup that includes movie channels such as Encore, Sundance, Flix and Retroplex. Digital Premier is Comcast's highest tiered package and includes more than 200 channels of programming, including HBO, Showtime, Starz and Cinemax. This package also allows subscribers to access the Sports Entertainment Package, which includes channels such as NFL RedZone, the CBS Sports Network, Fox College Sports, Fox Soccer Channel and the Tennis Channel.
High-Definition Service
Comcast offers more than 1,000 high-definition channels, including ESPN, FX, MTV, A&E;, Showtime, HBO, Starz and most network channels, such as ABC, NBC and FOX. You can also add HD programming to any digital cable plan for an additional monthly fee, but in order to receive HD programming, customers must have a TV with HD capabilities and an HD receiver, which is available through Comcast.
On Demand and DVR Service
On Demand from Comcast is available on all the digital cable plans, and allows subscribers to watch hundreds of television shows, music videos and movies at any time -- most are viewable at no extra cost. Customers can also watch many new releases on the day they come out on DVD through the On Demand service. Comcast also offers a digital video recorder service, where customers can fast-forward, pause or rewind live television. Through the DVR service, customers can also set up recordings for a single television show or an entire series. In order to receive DVR service, customers will need a DVR box, which Comcast provides.
Photo Credits
Jupiterimages/Polka Dot/Getty Images