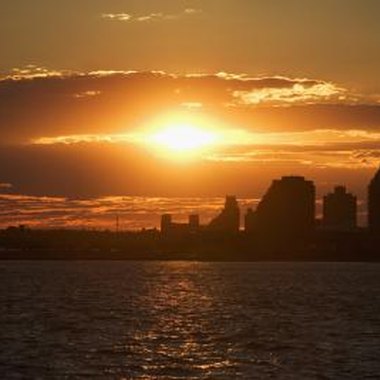 For many in America, the new year begins in the fall. School starts again, summer vacation is over, and planning begins for a new season. The fall equinox takes place in late September, when it's still warm enough in New Jersey to play outside as the sun sets, but the coming fall chill is in the air. Towns, schools and other groups around the state celebrate the equinox's arrival.
Bike Ride
The New Jersey cycling-enthusiasts group Bike Morristown hosts an evening bike ride to mark the autumn equinox. The event promises mystery and adventure, and participants are encouraged to bring lights. The Fall Equinox Adventure Bike Ride begins at Morristown Green and is often one of several bike-related events hosted by Bike Morristown during the preceding week.
ACCC Equinox Dinner
Culinary arts students at Atlantic Cape Community College in Atlantic City host a semi-annual gourmet dinner to mark the spring and fall equinoxes, among other dates during the year. Advance reservations are required and cost approximately $30 per person. The dinner takes place at the on-campus gourmet restaurant, staffed by students.
Montville Autumnal Equinox Hike
The Morris County Parks Commission hosts an Autumnal Equinox Hike at Pyramid Mountain National Historic Area in Montville, New Jersey. The hike is of moderate difficulty, and children are welcome to attend. This early evening event will take place partly in the dark, and hikers will take several breaks to learn facts about the autumn equinox and its place in astronomy and culture. Advance registration is required, and there is a small admission fee.
The Metaphysical Center of New Jersey Celebration
The Metaphysical Center of New Jersey celebrates each seasonal change, on the equinoxes and solstices, with guest lectures, workshops and fellowship. On the evening of the fall equinox, members and guests take time to celebrate the material and inner wealth they gained over the summer. Speakers are metaphysical and esoteric scholars, leaders and teachers, who present a message to members for the coming year. Following the presentation, participants enjoy pot luck snacks and mingling into the night. Events of the MCNJ take place at The Journey Within Church in Pompton Lakes.
Photo Credits
Medioimages/Photodisc/Photodisc/Getty Images