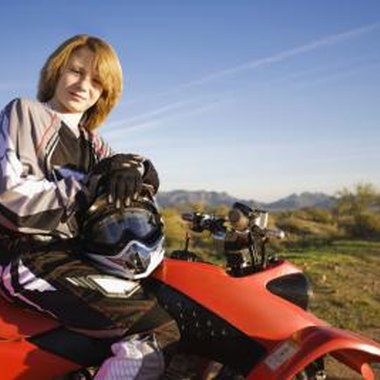 The village of Sylvan Beach is located on the banks of Oneida Lake in upstate New York, just northeast of Syracuse. Sylvan Beach is a resort and vacation spot for regional families, with easy access to recreation activities in the area. For off-road, all-terrain vehicle (ATV) enthusiasts, upstate New York has much to offer. The local forestland and countryside are dotted with specialty tracks and wilderness trails that welcome riders of all levels and ages.
Camden ATV Trail
Just 11 miles from Sylvan Beach, riders will find the privately owned and operated Camden ATV trail. This trail system offers eight miles of winding road through mellow hills and forestland. The Camden ATV trail is open for ATV riders as long as there is not too much snow on the ground, after which it becomes a popular snowmobile trail. During the local hunting season, which varies somewhat from year to year, the trail is closed to riders between 6 a.m. and noon. The Camden ATV trail requires riders to hold the TrailPass, a $50 annual pass allowing access to many commercial and private ATV trails throughout New York.
Thornwood MX
North of Sylvan Beach about 30 minutes drive is the Thornwood MX ATV trail, close to Williamstown. This competition track is open to all levels of rider on Thursday afternoons from 4 p.m. until dusk. This eight-mile track is perfect for training and developing ATV racing technique on loose sand and hard-pack surfaces. The practice sessions cost $20 per bike, and spectators can enter for free to take advantage of the panoramic viewing area. For riders new to the sport, and those who want to show off their skills for non-riding family and friends, Thornwood offers an excellent opportunity.
Motomasters
Thirty miles from Sylvan Beach, around the northwest side of Oneida Lake, riders will find Motomasters trail and ATV park near the town of Maple View. This facility, also known locally as "Devil's Drop" or "Lucifer's Ladder," is a natural-terrain motocross track tucked into the forest. With obstacles, loose-pack gravel and varied terrain, Motomasters is an excellent place to experiment with the limits of your skills and your all-terrain vehicle. Admission costs $10, and hours vary to accommodate race events.
Lewis County ATV Trail System
North of Sylvan Beach in Lewis County, a thriving public ATV trail system is open to riders looking for a weekend ride through the wilderness. With approximately 600 miles of trail and a 144-acre practice and play area, Lewis County's trail system is a great resource for upstate New York riders. A permit is required, and the fees associated with the permit go to maintain the trails. System trails open on May 1 and close at the start of hunting season, generally the second Friday in October. Weather may impose additional closures from year to year.
Resources
Photo Credits
Jupiterimages/Brand X Pictures/Getty Images