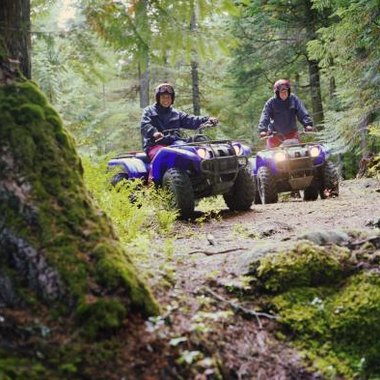 Lac Ste. Anne is a county in Alberta, Canada that is quite friendly to recreational vehicle drivers. In fact, the official county website mentions recreational riding opportunities under its community lifestyle and tourism page. For ATV riders, Lac Ste. Anne has over 100 km of approved trails and a club dedicated to informing and protecting those who want to ride four-wheelers in this county.
Roads and Trails
Lac Ste. Anne has an extensive number trails open to ATVs. According to the Ste. Anne Recreational Trail Use Committee (SARTUC), this includes 111 km of trails suitable for use with multiple kinds of recreational vehicles. Additionally, ATV operators may also ride alongside county-maintained roads, which gives even more options for the ATV enthusiast in Lac Ste. Anne. Still, when riding on these public trails and roads, operators must follow a number of regulations.
County Regulations
Before riding on any trail in Lac Ste. Anne, each ATV operator must register and insure his vehicle. The only exception to this rule occurs when operators ride exclusively on private property. Additionally, ATVs driven on roadways must have fully-functioning headlights, mufflers and braking systems, and operators may not exceed speeds of 40 mph. Finally, ATV operators are not allowed to ride on county trails and roadways between the hours of midnight and 8 a.m.
Other Laws
There are also other regulations that ATV operators must follow, dictated by the province of Alberta. This includes a law preventing those under 14 years of age from driving without adult supervision. ATV operators are also prohibited from driving on large provincial highways, including the large numbered highways of Alberta. ATV operators are not required to wear helmets or other safety equipment.
Fines
Those who fail to follow county and provincial regulations may be fined. Law enforcement officials may seize the ATVs of riders who operate without insurance and registration, or who operate on prohibited highways. Additionally, violators may be required to pay fines between $115 and $230. Riding an ATV without proper equipment that is not properly equipped is a lesser offense, and can result in a fine of $57.
The Club
Enthusiasts in Lac Ste. Anne may want to join the county's ATV club, in order to stay better informed and connected with other riders in the area. The club formed in 2006, and currently has over 130 members. The Lac Ste. Anne ATV Club engages in a number of family-oriented activities each year, hosting charitable events in addition to member rallies and gatherings. Members can also find out about trail updates, openings and closures through the club.
Photo Credits
Mike Powell/Digital Vision/Getty Images