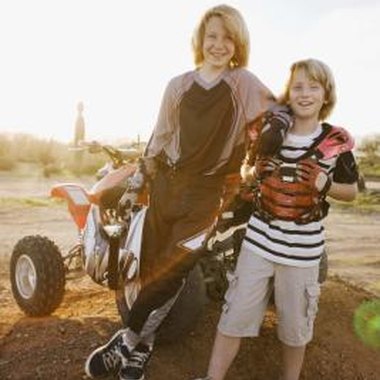 Crescent City's state-authorized all-terrain vehicle (ATV) trails are part of the Six Rivers National Park and follow paths that stretch approximately 15 miles long and travel northeast of Crescent City. The ATV trail area is known by many names including the Rattlesnake Ridge Area, Pigeon Roost Spring, Boulder Ridge, Soldier Well and the Smith River National Recreation Area. For the purpose of this article, it is only referred to as the Rattlesnake Ridge Area. Riders should know that because many parts of the trails go unused, they become overgrown with plants.
Trail Terrain
The Rattlesnake Ridge Area trails meet at the end of the Tolowa Dunes State Park Smith River. The area has two ATV trails. One is a hard-packed soil path littered with sharp rocks, while the other is a smoother gravel road. These roads are for beginner-level riders as there are few steep hills, water crossings and jumps. Both trails are flanked on both sides by dense forest thick with tall redwood and Douglas fir trees that provide plenty of shade. Riders may bypass shallow Rattlesnake Lake. Some routes along the path lead to old chromium and nickel mines but most just loop. At any time, riders may encounter raccoons, deer, coyote and, of course, rattlesnakes.
State Restrictions
Riders must obtain riding permits from California's Off-Highway Motor Vehicle Recreation (OHMVR) (ohv.parks.ca.gov) department. The California Air Resources board recognizes the Rattlesnake Ridge Area trails as being all-season, so ATV owners receive red stickers showing state authorization for year-round trail use. The park's noise limit for post-1986 ATVs is 96 decibels (dB) and 101 dB for older vehicles. To meet this requirement, all ATVs must have an end cap or spark arresting silencer. The California OHMVR does not charge riding fees.
Necessities
Hard falls and road accidents are possible for even the most experienced ATV rider. In addition, unmarked open mine shafts do exist in the Rattlesnake Ridge Area. In the event that riders require medical attention, the Sutter Coast Hospital (suttercoast.org) is five to 20 miles northwest of the trail region, depending on where you are within the park. A convenience store, Hiouchi Hamlet Market, is also available at the same distance northwest of the Rattlesnake Ridge Area. Next to the market is the Hiouchi Chevron gas station.
Additional Recreation
With year-round riding rights and a motel right next to the Hiouchi gas station and convenience store, riders may enjoy participating in other recreational activities in the trail area. Riders who travel with an RV can camp at the Hiouchi Hamlet RV Resort (hiouchirv.com). Hiking and swimming are allowed along the south side of the Smith River. The Big Flat Campground is five to 20 miles south of the Rattlesnake Ridge Area, while the Crescent City public boat ramp is located at the same distance west of the area.
Photo Credits
Jupiterimages/Brand X Pictures/Getty Images