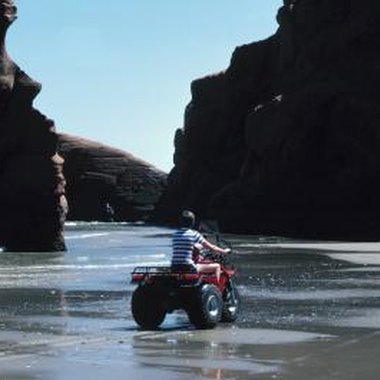 Regulated by California's Department of Parks and Recreation, the state has a number of all-terrain vehicle laws aimed at protecting riders, pedestrians and the environment. Pertinent to any person riding on public lands and in state parks, these laws regulate everything from safety equipment to ATV registration. California's ATV laws also include a number of statutes regulating ATV use by persons under 18, including a required safety certification for minors or those supervising them.
Age Restrictions and Supervision
California has strict ATV laws regarding minors. Any person age 14-17 that wishes to ride an ATV in a state park is required to possess an ATV safety training certificate or to ride with an adult with such a certification in the state. Additionally, those under the age of 14 are allowed to ride in state parks and on other public land, but they must be directly supervised by a parent or guardian with such safety certification. Another adult, with express permission of a parent or guardian, may also ride with a minor under the age of 14, provided they also have said safety certification. In order to acquire such a certification, riders in California have a few different options.
Safety Training
In order to receive the safety certification required for minors to ride, enthusiasts in California may either take a training course provided by the ATV manufacturer or participate in one of the many free safety training courses offered by the Off-Highway Motor Vehicle Recreation (OHMVR) division of California's Parks and Recreation Department. For new ATV purchasers, safety classes are generally available from the manufacturer at the ATV Safety Institute. For those that have purchased used ATVs or who otherwise do not qualify for ATV manufacturer training, OHMVR offers free training on weekends across the state of California. Adults over 18 who wish to take a safety certification course from OHMVR may also do so, though they must pay a $150 registration fee.
Classes
Persons planning to take an ATV safety certification course in California can expect a number of different topics to come up during class. The purpose of these courses is to teach rider responsibility and safety, particularly to new riders. Instructors will review preride inspections, starting and stopping, riding techniques, environmental issues and California state laws. Participants can expect to get hands-on practice during the half-day course.
Other Laws
In addition to its safety certification and age laws, California also regulates a number of other aspects of ATV riding and safety. Riders are required to wear helmets when riding in state parks, and they may not ride on roadways other than to cross them. California also requires any ATV driven on public lands to be titled, registered and licensed, and owners must renew their registration annually.
Resources
Photo Credits
Hemera Technologies/Photos.com/Getty Images