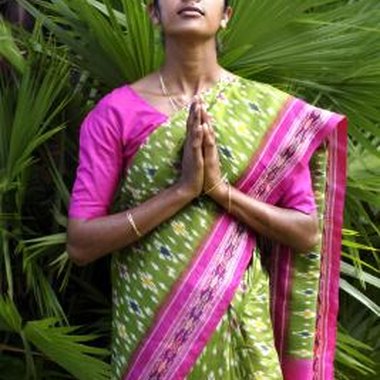 Known as the island associated with Hinduism's Lord Rama, Rameshwaram attracts pilgrims who visit its religious attractions. To Hindus, Lord Rama represents a man of perfect virtues. In Rameshwaram, visitors worship the attraction of Lord Rama's footprints imprinted on a shrine. Visitors can be dipped in water to be absolved of sin and are drawn to the attraction of ancient architectural temples and discovered land. The island spreads over approximately 39 miles in a conch shape.
Pilgrimage Attraction of the City of Danushkodi
The pilgrimage to the deserted town of Dhanushkodi in Rameshwaram attracts followers of Hinduism's Lord Rama. Devastated by a cyclone in 1964, Dhanuskkodi's ruins are set against blue seas and white sands where the Bay of Bengal meets the Indian Ocean. From an aerial view, the seas appear shaped in the form of Rama's bow and arrow. The tip of the arrow attracts pilgrims who believe they must take a holy dip in the water to pay respects to Lord Rama at least once in their lifetimes to be absolved of sins.
Shrine of Lord Rama's Footprints at Gandamadana Parvatham Hill
Pilgrims travel to the Rameshwaram island to reach the two-story temple attraction of Gandamadana Parvathamas. It is here that pilgrims visit the shrine of the footprints of the revered Lord Rama as a place of worship. To reach the temple, adventurous visitors can ride through a local village on a bicycle, visiting markets and experiencing the culture of South India.
Ramana Swamy Temple
The Ramanatha Swamy temple, a 17th-century attraction famous for its 1,200 gigantic granite architectural columns and towering gateway, stands approximately 177 feet high and covers 15 acres. The temple's 400-foot-long corridor with over 4,000 pillars attracts visitors who can also sample water from the temple's 22 wells, each with its own taste.
Adam's Bridge
Another attraction is an ancient geological formation at the tip of Dhanushkodi on the Indian Ocean. This attraction, known as Adam's Bridge, stretches for 30 miles from Rameshwaram to Sri Lanka in a chain of reefs, limestone, sandbanks and islets. Hindus believe in the legend that Lord Rama built it to rescue his abducted wife from Sri Lanka. The amount of water on the strip ranges from none to 30 feet deep. Tourists visit the beach at the tip of Dhanushkodi to see this ancient attraction.
Photo Credits
Thinkstock Images/Comstock/Getty Images