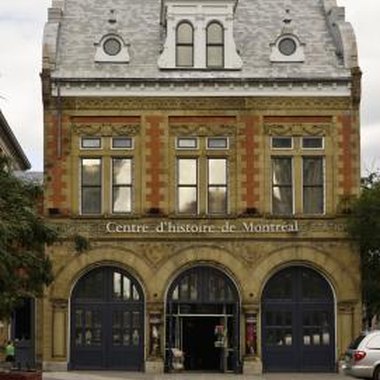 Old Montreal, a famous district in the French-speaking city of Montreal, lies between the St. Lawrence River and downtown Montreal, in the province of Quebec. Recognized for its historical preservation, its 17th and 18th Century architecture as seen in the Notre Dame Basilica attracts visitors to its showcased history. Old Montreal takes you back into history with its cobblestone streets and museums with artifacts dating back to the birth of the city. Aside from its history, the liveliness of Old Montreal, with its social atmosphere, music and markets, creates its ambiance.
Notre Dame Basilica
Built in 1829, the church of Notre Dame Basilica attracts visitors with its Gothic Revival architecture. Statues sculpted from black walnut and pine, blue, gold and bronze paintings and sculptures and stained glass decorate its interior. Visitors can experience the birth of Montreal and Notre Dame Basilica through sound and light shows held at night with blazing displays on giant screens suspended from the church's vault.
Place Jacques-Cartier
Extending out to the waterfront, Place Jacques-Cartier is the main street in Old Montreal. It is a social attraction for locals and tourists, and has busy restaurants with outside terraces, nightlife, entertaining street artists and a market of handmade goods from Quebec fill Place Jacques-Cartier. At approximately 114 feet high, the Nelson Monument, built in 1809, stands as the landmark to Place Jacques-Cartier. Although the monument marks the defeat of the French at Trafalgar, it more correctly represents the French Canadians' celebration of the defeat the ruler Napoleon Bonaparte.
Canadian Music Centre
Collectors of music may appreciate the attraction of the Canadian Music Centre (CMC) which holds the largest collection of Canadian contemporary music located in Old Montreal. At the CMC you can find approximately 16,000 scores of music and recordings as well as biographical records on Canadian composers. Visitors can buy CDs of Canadian independent recording artists and CMC's associate composers. Admission is free.
Centre d'Histoire de Montreal
Formerly a fire station, the restored Centre d'Histoire de Montreal museum attracts visitors with over 1500 artifacts of Montreal's history since its birth in 1535. Here visitors learn about the history of Montreal, including the presence of the First Nations people and the debated trial of the widow Francheville's Black slave Angelique after the historic fire of 1734. The museum's guided tours provide visitors with aspects of Montreal history up to the end of the 19th Century.
Photo Credits
Simon Willms/Lifesize/Getty Images