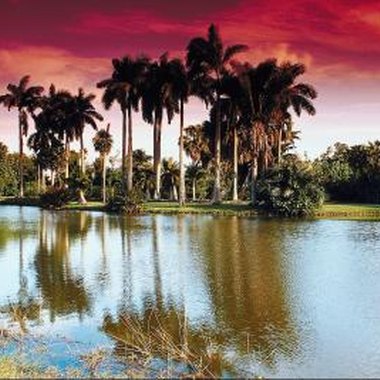 Okahumpka is a small town in central Florida with a population of around 250 people. Lake County's Okahumpka is a census-designated place, meaning the town is governed and supported by the larger towns that are adjacent. Because Okahumpka is a designated part of the Orlando-Kissimmee Metropolitan Area, you'll find easy access to all of the attractions in Orlando, but the Okahumpka area also offers some fun things to do. When looking for attractions in Okahumpka, it's common to include the surrounding towns of Leesburg, Eustis and Mount Dora. The close proximity keeps travel time to a minimum.
Fishing
Fishing is a popular pastime in Okahumpka, and the nearby Harris Chain of lakes has been on several lists by the Florida Fish and Wildlife Commission as some of the best freshwater fishing spots in Florida. Aside from the Harris Chain of lakes, Okahumpka is in close proximity to the Clermont Chain, which is composed of 13 lakes. According to the Lake County municipal website, the Palatlakaha River and Lakes Minneola and Louisa provide the best fishing on the Clermont Chain. Fish that are frequently caught in the Clermont Chain include largemouth bass, black crappie, bluegill and sunfish. Record-breaking channel catfish are regularly caught in this chain of waterways, and 20-pound fish are not uncommon.
P.E.A.R. Park
P.E.A.R. Park, on University Avenue in Leesburg, is a 268-acre nature recreation area with more than seven miles of trails for exploration. At P.E.A.R. Park you'll see indigenous plants and butterfly demonstration gardens, two observation overlooks, an operational geology lab and nature center, and a pavilion with a viewing blind that overlooks one of the park's many temporal ponds. P.E.A.R. Park is home to the Bluebird Box Trail, which includes 55 acres of scrub-jay restoration area and Florida prairie land restoration. To the north and west, the park is adjacent to the Palatlakaha River, increasing the abundance of wildlife and plant sightings. For the bird-watching enthusiast, the park's many trails offer more than 170 species of birds. The park also includes exercise stations along the trail, a dog-friendly park area, canoe and kayak launching facilities, and picnic pavilions with grills.
The Leesburg Heritage Museum
The Leesburg Heritage Museum is located just north of Okahumpka on South 14th Street, in Leesburg. The building that houses the museum has historical value on its own. The original structure was built in 1922 by the Leesburg Woman's Club, then went on to become the Leesburg Library, the Leesburg Chamber of Commerce, home to several civic organizations and finally the Leesburg Heritage Museum. The museum is rich with artifacts and antiquities that relay the history of Leesburg and the surrounding areas. The museum holds documentation, photos, records and items from Leesburg's origin as a citrus-producing haven. Organized in 1976, the museum is staffed by members of the Leesburg Heritage Society, and attendants are available to answer questions concerning the museum or Florida's Lake County area history.
Renningers Antiques Center and Farmers Market
Located just across Lake Harris from Okahumpka, on 117 acres of scenic Mount Dora property, you'll find Renningers Antiques Center and Farmers Market. Renningers has been growing in popularity as a tourist destination since its opening. This mini-village is home to more than 180 individually owned antique shops. Items you'll find at Renningers include antique furniture and wares, collectibles, jewelry, glass works, china table settings, dolls, silver, art and pottery. Services available at Renningers include metal restoration and polishing, radio and stereo repair, custom jewelry and jewelry repair, and handmade gifts of all kinds. At the Renningers Farmers Market, you will find many vendors selling fresh produce and a vast expanse of the enclosed and open-area flea market. Renningers is open every weekend of the year.
Photo Credits
Jupiterimages/Photos.com/Getty Images