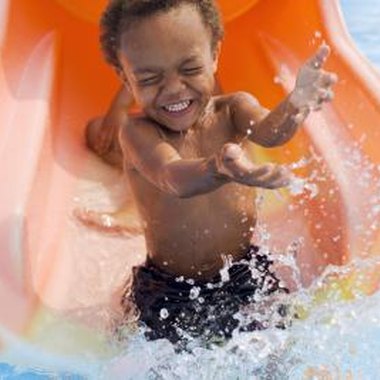 A township in middle New Jersey, Mount Laurel is filled mostly with residences over its 22 acre expanse. Still, for those looking for some diversions within the township, there are many opportunities. Attractions that might interest residents and travelers include sightseeing stops, learning experiences, amusement parks and recreation.
Sightseeing and History
Those looking to take in the history of Mount Laurel might want to visit some of the township's historical landmarks. This includes Jacob's Chapel (jacobschapelame.org), a church built in 1859 that was once used by Quakers as a refuge for the underground railroad. In the cemetery behind the chapel, visitors can also find the graves of African American soldiers from the Civil War. Other notable landmarks in Mount Laurel include the Hattie Britt School (mtlaurelschools.org), a school built in the early 1900s that is now used as an administration building for Mount Laurel's public school system, and the Farmer's Hall (no website; 18 Evergreen Road; 856-235-2334), a meeting place from 1866 that the Mount Laurel Historical Society fully restored in 2002.
Education
There are also more involved educational opportunities available Mount Laurel. The Paulsdale (alicepaul.org/paulsdale.htm) is both a historic landmark and a structured opportunity to learn. This historic residence and farm of the Paul family dates back to the late 1800s, and is listed on the National Registry of Historic Places. Today, it operates as a museum complete with 45-minute guided tours and an opportunity to watch a narrated slideshow. Another spot for learning in Mount Laurel is Paws Farm (pawsfarm.com), a nature center that doubles as a museum dedicated to informing about the history and environment of Mount Laurel. Paws Farm offers classes, story sessions and birthday parties geared especially toward kids.
Amusement
For those looking for some relaxation and diversion, Mount Laurel also delivers. CoCo Key Water Resort (mtlaurelcocokey.com) allows guests to enjoy summer-themed fun and swimming any time of year. This indoor water park features a dedicated play area for young kids in addition to a few slides. A bar, dining area and arcade are also located on the premises. Another entertainment option in the township is The Funplex (funplexmountlaurel.com), an entertainment center with a water park of its own. The Funplex also features mini golf, bowling and carnival rides outside in addition to indoor attractions like laser tag, an arcade and a motion simulator.
Parks and Recreation
There are also opportunities in Mount Laurel for those looking to get outside and to get active. The township is home to over 30 different public parks, many with sports fields, basketball and tennis courts, and walking paths. Some also feature pavilions, picnic areas and playgrounds. Willow Turn Park, located at 99 Willow Turn, even features a hockey rink. Golf fans in Mount Laurel may also want to check out Ramblewood Country Club, which offers a 27-hole, parland-style golf course.
Photo Credits
Creatas Images/Creatas/Getty Images