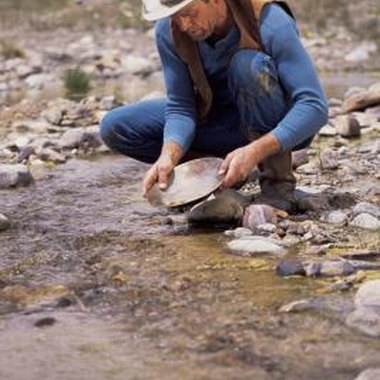 Leadville, Colorado, sits at 10,430 feet above sea level, making it the highest incorporated city in North America. Nestled in the heart of the Rocky Mountains, Leadville was a gold and silver boom town in the 1880s, and its rich history is reflected in its Victorian homes and museums. Leadville offers visitors a number of attractions, including historical sites, festivals and a ski resort.
National Mining Hall of Fame
Leadville's long and storied mining history, as well as a successful proposal for a permanent building location, led to it becoming the site of the National Mining Hall of Fame (mininghalloffame.org). The National Mining Hall of Fame was established in 1987 as the only federally chartered mining museum in the country. The Hall of Fame contains engraved plaques of men and women who have provided outstanding contributions to the mining industry. In addition to the Hall of Fame section, the building, located in a renovated old schoolhouse, also contains a mining museum, with exhibits on the history of mining in America, recreations of mines, examples of materials culled out of mines and rooms outlining gold and silver rushes.
Ski Cooper
Ski Cooper and Chicago Ridge (skicooper.com) offers an affordable and less-crowded alternative to big Rocky Mountain resorts. Additionally, skiers and snowboarders have the chance to make the same runs that the U.S. Army 10th Mountain Division trained on for World War II. The mountain contains 26 runs ranging from beginner to expert. There is also a "snowcat skiing" option, which allows skiers to sightsee on backcountry ski tours. Ski Cooper offers lessons and equipment rentals.
Leadville Annual Boom Days Festival
Each year in late summer, Leadville hosts the Annual Boom Days Festival, a three-day event celebrating the town's mining and Victorian history. Activities include a 5K race, mining and motorcycle competitions, a rod and gun show and craft fair. Visitors also are treated to live music and a 21-mile pack burro race. More than 100 vendors provide food and crafts to hungry patrons.
Healy House Museum and Dexter Cabin
The Healy House and Dexter Cabins, located next to each other in downtown Leadville, pay homage to the Victorian and frontier opulence of two people who struck it rich in the gold boom of the 1880s. The Healy House is a restored Victorian mansion decorated inside with era furniture and artwork. James Dexter's elaborate log cabin sits next door and contains items from his hunts and other collections. A lush garden sits between the homes, and all three are available for visitors to reflect on the boomtown Victorian lifestyle of Leadville.
Photo Credits
Comstock/Comstock/Getty Images