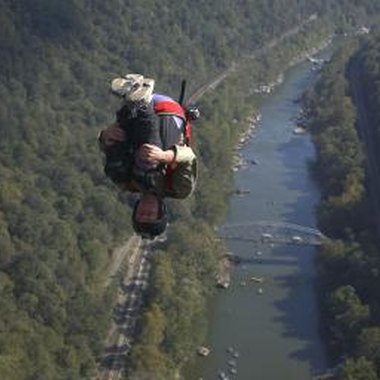 Lansing, West Virginia, lies in the southern part of the state, in Fayette County. The area is home to one of America's National Heritage Rivers -- the New River where visitors come to experience white-water rafting, hiking and biking trails and scenic views with wildlife unique to the region. If you plan a trip to Lansing or the Fayette County area, you'll find the main attractions center around the New River Gorge.
Rivermen Resort
The New River Gorge area is home to several resorts including Rivermen (rivermen.com). It's nestled among the scenic mountains where there are miles of trails to explore, rock-climbing adventures and world-class trout fishing. White-water rafting is a favorite local activity. The New River Gorge Upper rafting trip is more mild while the Lower portion features drops and more than 25 rapids. Relaxing pools between the drops allow for a quick rest and a scenic view before the next challenge. The resort is available for events, family vacations or just an afternoon of play.
New River Gorge Bridge
The New River Gorge Bridge (officialbridgeday.com) is the third longest steel-arched bridge in the world and the largest in the Western Hemisphere. It spans one of the largest river gorges in the world and is a popular tourist destination. Every October, the bridge is celebrated with a day held in its honor. Bridge Day is an annual event that has spectators lining the bridge to watch the extreme sport of bridge jumping. Registered bridge jumpers jump from four different points -- Building, Antenna, Span and Earth. The sport has become known as B.A.S.E. jumping, and jumpers are allowed six hours to fit in as many jumps as they can.
New River Gorge National Park
The New River Gorge National Park is in nearby Fayetteville, about two miles to the southwest of Lansing. The 70,000-acre park lies along the New River and offers glimpses into the cultural and natural history of the area. Ranger programs are available free of charge, and junior ranger opportunities are available for kids 7 to 14. The park hosts several events including guided trail walks during which visitors learn about the early settlers and the history of the local railroad. Additional activities in the park include biking, hiking, boating and more leisurely options such as birding or simply watching the river roll by. Picnic and camping areas are available.
New River Jet Boats
New River Jet Boats (newriverjetboats.com) will take you on a tour of the New River from its location at Hawks Nest State Park. The trip starts out with a tram ride upstream where the New River Bridge stands 876 feet above the river. The boats tours everyday; the six-mile trip lasts for about 30 minutes. Several outfitters, such as Appalachian Backcountry Expeditions and North American River Runners, offer float-fishing trips down the New River where trout, bass and catfish are the targeted species.
Photo Credits
Jeff Swensen/Getty Images News/Getty Images