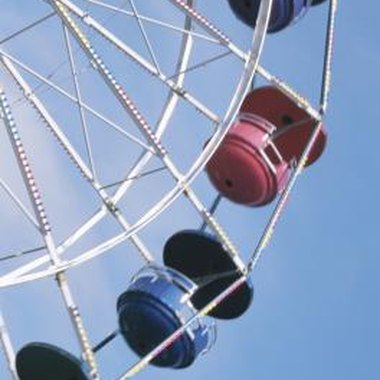 The Borough of Kutztown lies in the heart of Pennsylvania Dutch country, on an area of land known as the East Penn Valley. Visitors to the borough have the chance to take in a variety of local attractions, ranging from natural wonders, such as the Crystal Caves, to local museums detailing the German heritage of the area.
Natural Attractions
Rated one of the most significant natural locations in Berks County, the Sacony Marsh (kutztownboro.org) provides residents and visitors with a pristine wilderness area to enjoy. The marsh spreads out over 20.5 acres, with some of the wildlife on view including bald eagle, heron, flying squirrel and turtle. A raised trail winds through the wetland, providing a way for visitors to enjoy it. Visitors to Kutztown can also take a tour of Crystal Cave Park (crystalcavepa.com), which lies 125 feet underground and contains some beautiful rock formations. Locations to see include the Crystal Ballroom and the Cathedral Chamber.
Historical Attractions
Visitors can gain a view of Kutztown's history by visiting the Kutztown Area Historical Society Museum (kutztownhistory.org). Housed in a restored school building, which dates back to the late 1800s, the museum contains a variety of artifacts, including a Pennsylvania long rifle, 19th-century farm and textile tools, and needlepoint work produced by local schoolchildren in the 1840s. The museum holds regular events, and visitors can also take tours by appointment.
Community Attractions
The Kutztown Borough Swimming Pool (kutztownboro.org) provides a community facility that both residents and nonresidents can use. Located at the Kutztown Municipal Building, the outdoor pool opens daily from May to September, with swimmers having the choice of paying on the day of use or buying a season ticket.
Shopping Attractions
The Kutztown Main Street Growers Market (Kutztownpa.org) takes place at the Trinity Evangelical Lutheran Church on Thursday evenings from June to October. The market has fresh food available from local farmers and food producers, and visitors can take their pick from a selection of Kutztown grown fruit, vegetables, meat and other produce.
Cultural Attractions
Visitors can view the German heritage of the Kutztown area at the The Pennsylvania German Cultural Heritage Center. Located at the Kutztown University (Kutztown.edu), the center houses artifacts from the lives of the Pennsylvania German community in the late 1800s and early 1900s. Objects on view include household and farming items, and visitors can tour the facility by appointment.
Annual Events
Visiting during one of Kutztown's annual events can provide an enjoyable experience. The borough hosts a series of free summer concerts (kutztownboro.org), staged in the Kutztown Park band shell on Saturday evenings, from May to August. The concerts feature local singers and bands playing a variety of musical styles. The Kutztown Fair (kutztownfairgrounds.com) takes place at the local fairground during one week in August. The fair has a history dating back more than 100 years and features events, such as farm animal exhibitions, craft displays, music concerts and a midway.
Photo Credits
Hemera Technologies/AbleStock.com/Getty Images