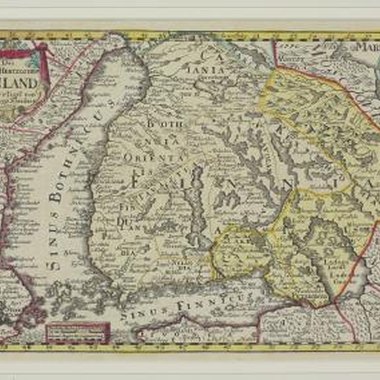 Kristinestad, Finland, founded in 1649, lies on its western border, on the shores of the Gulf of Bothnia. The residents of Kristinestad, like many others on this Finland coast, are just as likely to speak Swedish as Finnish. The village is known for its wooden houses, narrow alleys, two wooden churches and small village square. Stop in Kristinestad to slow the pace your trip and enjoy the scenery.
Alleys
The alleys in Kristinestad are just as much an attraction as the houses that create them. Strolling down the narrow dirt paths that weave through the classic wooden houses provides the village feel characterizes Kristinestad. One alley in particular, Kattpiskargranden in Swedish and Kissanpiiskaajankuja in Finnish, is often a photo stop for travelers as the name translates to "Cat Spanker Alley." The alley was named after a local cat catcher who lived in a house on that alley.
Parmansgatan Square
Parmansgatan Square is the location of Parmansgatan, also called the "New Church." It was built with red bricks and a tall bell tower equipped with windows that can be opened to release the sound of the bells. During summer, the garden that surrounds the church blooms with foliage and flowers. Wooden houses flank the rest of the square, all painted various colors. Many residents were shipbuilders, so their wooden houses were constructed with similar techniques.
The Old Church
In Kristinestad, you can distinguish between the two churches in the village by their age -- old or new. The old church, Ulrika Eleonora Kyrka, was originally built in 1700, but was renovated in 1965 and named after the Swedish Queen Ulrika Eleonora. The church holds a few services each year, and often sees weddings taking place in its sanctuary. Typical of coastal cities whose primary business was shipbuilding, the ceiling and architecture reflects the knowledge of ship construction. In the courtyard, you find the Ulrika Eleonora Kyrka graveyard, honoring many Kristinestad heroes and prominent families.
House of Customs
The old House of Customs sits next to the old church. Travelers from around the country were required to register at this customs location before entering. The road leading to this building is quaint and lined with trees. The white exterior, red doors, large clocks and domed tower showcase the architecture reflected in many governmental buildings today.
Photo Credits
Hemera Technologies/AbleStock.com/Getty Images