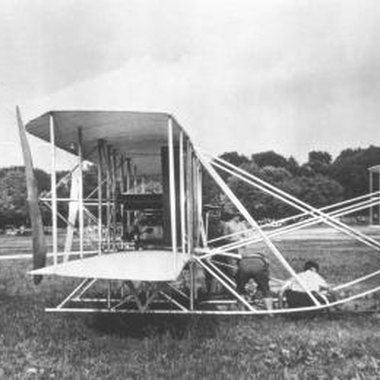 Kitty Hawk is a small town located in the Outer Banks region of North Carolina. The town, in the northeastern part of the state, borders Kitty Hawk Bay and the Atlantic Ocean and is perhaps best known for being the site of the world's first manned, powered airplane flight. Aviation buffs, beach lovers, golfers and others will find plenty of activities in the Kitty Hawk area.
The Wright Brothers National Memorial
The Wright Brothers National Memorial (www.nps.gov/wrbr/) in Manteo, North Carolina, a few miles away from Kitty Hawk, honors Orville and Wilbur Wright, the Ohio bicycle makers who invented the world's first successful airplane. The memorial, which is operated by the National Park Service, features replicas of the Wright Brothers' airplanes, engines and wind tunnel. Additionally, the park features museum exhibits, aviation-themed movies and children's educational programs. Pilots in the area can fly into the memorial's First Flight Airstrip, which is 3,000-feet long and open during daylight hours only.
Sea Scape Golf Links
Golf aficionados will find plenty to do at Sea Scape Golf Links (seascapegolf.com), Kitty Hawk's public golf course. The 18-hole golf course is located near the ocean and downtown Kitty Hawk, and offers views of forests and surrounding buildings. Course rates vary based on the time of year, with higher prices during the summer and lower prices during the winter. In addition to the golf course, the links is also home to the Sea Scapes Bar and Grill, a restaurant that serves breakfast, lunch and dinner. As of June 2011, the golf course and restaurant were open seven days a week.
Kitty Hawk Beaches
Kitty Hawk is home to several stretches of public, city-owned beach along the Atlantic Ocean. Visitors to the beaches, which are open year round, can participate in many activities, including swimming, sunbathing and surfing. Public parking is available along several city roads, including Balchen, Bennett, Bleriot, Fonck, Hawks, Lillian, Maynard and Wilkins streets, according to the Town of Kitty Hawk's website. Lifeguards are on duty during the summer -- Memorial Day to Labor Day -- between the hours of 10 a.m. and 6 p.m.
Other Attractions
Kitty Hawk is also home to a myriad of other activities and attractions, including the Kitty Hawk Woods, a city-owned nature preserve that features southern maritime deciduous forest, swampland and marshland. Additionally, the town is home to a mini-golf course, game arcade and marina, as well as numerous stores, restaurants and bars.
Photo Credits
Photos.com/Photos.com/Getty Images