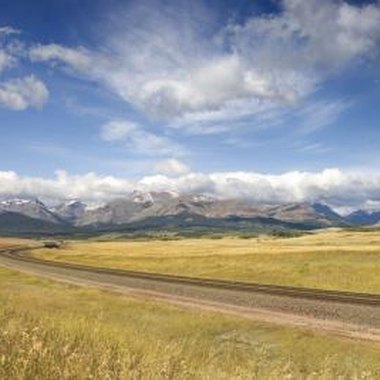 Havre is a century-old railroad town in northwest Montana. Initially known as Bullhook Bottoms, the town was renamed Havre after a series of spirited meetings, some of which ended in brawls. Today, Havre showcases its colorful history with a variety of educational and entertaining attractions throughout the town. As the eighth-largest city in Montana, Havre is still a vibrant beacon in Montana's scenic, rolling plains. Visitors are encouraged to contact the Havre Chamber of Commerce at 406-265-4383 for more information about these attractions.
Museums
The H. Earl Clack Memorial Museum (havremt.com/attractions/h_earl_clack_museum.htm) is an official stop on the Montana Dinosaur Trail. This museum is located in the Holiday Village Shopping Center and offers free admission. Visitors can gaze at 75-million-year-old dinosaur eggs and embryos, thought to be laid by a crested, duck-billed lambeosaur. The museum also showcases historical dioramas as well as artifacts from the Wahpka Chug'n bison kill site and Fort Assinneboine. The Frank DeRosa Railroad Museum (havremt.com/attractions/railroad_museum.htm) is another free attraction. Sure to capture the imagination of train enthusiasts both young and old, the museum has a model railroad, working block signal and original railroad push carts. Visitors can also check out a well-stocked reference library and gift shop.
Fishing
With a stunning variety of fish species, the area is a haven for fishing fans (havremt.com/attractions/fishing.htm). Beaver Creek Park, in the Bear Paw Mountains south of Havre, is one of the more scenic spots to fish. This 10,000-acre park is one of the largest county parks in the U.S. and it offers excellent fishing opportunities. Many reservoirs around Havre are known for fishing as well. Reser Reservoir is known for bass, Bailey Reservoir is a great place to take kids, Ross Reservoir is known for fly fishing and Fresno Reservoir offers walleye fishing as well as boating and water skiing opportunities.
Archaelogical and Paleontological Sites
The Wahkpa Chu'gn Archaeological Site is a 2,000-year-old native American buffalo jump (buffalojump.org/). See native American artifacts, a 20-foot-long wall of buffalo bones, buffalo skulls and actual archaeological excavations during a one-hour-long walking tour. View the badlands along the Milk River just north of Havre during the course of an easy five-mile drive (havremt.com/attractions/badlands.htm). Fossils in the area prove the existence of marine animals, tropical plants, reptiles and dinosaurs millions of years ago. Much of this area is privately-owned, so ask permission before wandering around.
Military and Historical Sites
Fort Assiniboine is a sprawling military installation with over 100 buildings (oldfortstrail.com/fort_assinniboine.php). This important strategic military post was built in 1879 after The Battle of the Little Bighorn. Not only did the fort bring peace to the northern plains, it also served as a catalyst for economic development in the area. The fort is open from June to September and offers daily tours. Havre Beneath the Streets (havremt.com/attractions/beneath_the_streets.htm) is a unique guided historical tour that allows visitors to see what Havre was like after much of the town was destroyed by fire and business owners literally moved their activities underground. View an opium den, a saloon, a Chinese laundry and a bordello.
Resources
Photo Credits
Thinkstock/Comstock/Getty Images