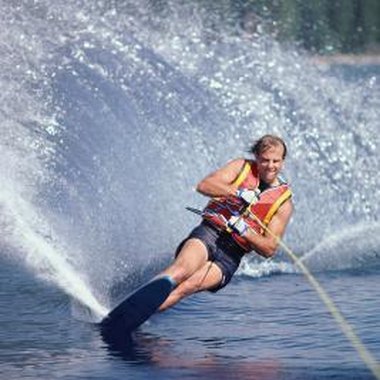 Hampstead, New Hampshire, is a town in the southeast part of the state. It is 20 miles from the ocean, 30 miles from Concord and 45 miles from Boston, Massachusetts. Three lakes are situated wholly or partly in Hampstead, giving the area many water attractions to enjoy. Visitors can stay in campgrounds, rental homes and cottages and nearby hotels. When you want a break from the water, several other entertaining and historic attractions are within 10 miles of Hampstead.
Three Lakes
Three lakes comprise 400 acres of Hampstead: Big Island Pond, Sunset Lake and Angle Pond. The lakes attract tourists during the summer season, and many lake cottages are available for rent. Boating, water-skiing, kayaking, canoeing, fishing and swimming are popular on the lakes. Big Island Pond received an EPA merit award in 2010 for devising natural methods of controlling plant overgrowth, a problem that is common in water when low rainfall causes lower water levels, which in turn increases plant growth.
Free Summer Concerts
A weekly summer concert series that is free and open to the public is held at Meetinghouse Park (meetinghousepark.org), which is on the corner of Main Street and Emerson Avenue. Bands play a variety of music, including country, Beatles, big band, jazz, bluegrass, gospel and oldies. In the past, Meetinghouse Park has also held Fiddle Championships with prizes for children, teens and adults.
Camping
Several campgrounds serve locals and tourists in and around Hampstead. Sanborn Shore Acres (sanbornshoreacres.com) is a campground on Big Island Pond in Hampstead. It has 136 campsites with electricity, sewer hookups, well water, cable TV, a picnic table and a fireplace at each site. The campground has a 180-foot sandy beach with a snack bar, a boat ramp and docks. The campground often has bingo, arts and crafts, horseshoes and cribbage tournaments, ice cream and pizza parties, field games and professional DJs and entertainers.
America's Stonehenge and More
America's Stonehenge (stonehengeusa.com) is worth visiting in nearby Salem, about 10 miles from Hampstead. No one knows who built the stone walls, chambers and ceremonial meeting places, but it is believed to be 4,000 years old. Researchers have found inscriptions in ancient Ogham, Phoenecian and Iberian Punic Script. Nearby attractions include Canobie Lake Park (canobie.com), also in Salem. The amusement park has rides, water rides and entertainment. The Robert Frost farm (robertfrostfarm.org) is about 10 miles from Hampstead in Derry, New Hampshire. The farm site includes the house Frost and his family lived in from 1900 to 1911. Programs include tours, a trail and poetry readings and contests. It is open from May through mid-October.
Photo Credits
Stockbyte/Stockbyte/Getty Images