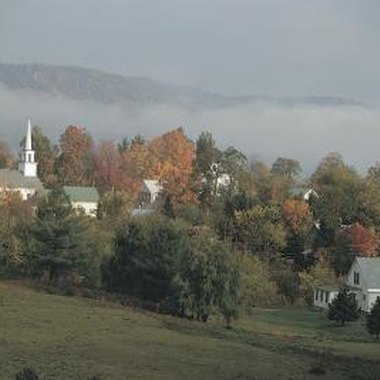 Granville, Ohio is located in the east central part of the state, along the western edge of the Appalachian Plateau. The town was settled by people from Granville, Massachusetts and Granby, Connecticut, which explains its strong New England charm. Granville has been able to maintain its small town essence and has over 100 buildings listed on the National Register of Historic Places.
Museums
Granville offers visitors several museums to visit. Denison Museum (denison.edu/campuslife/museum/index.html), located on the campus of Denison University, has nearly 8,000 objects of art from Asia, Africa, Europe, North and Central America, some dating back to 1500 B.C. The Granville Historical Society Museum (granvillehistory.org/museum.htm) showcases pioneer objects that were brought to Granville by the original settlers. Granville Lifestyle Museum (no website; 121 South Main Street, Granville; 740 587-0373) offer tours and lectures about life in the 1800s, featuring clothing and furniture from that century. Robbins Hunter Museum (robbinshunter.org) contains the 18th and 19th century decorative arts collection of Robbins Hunter and is a highly popular example of American Greek Revival architecture.
Landmarks
There are many historical landmarks that Granville is home to. One of the most famous is the Old Colony Burying Ground (no website; South Main St., Granville). Veterans from five different wars are buried in the cemetery, including soldiers from the Revolutionary War, The War of 1812 and the Civil War. Granville also lays claim to the Alligator Mound, a giant earthen sculpture of a four-footed animal with a long, curving tail which archaeologists believe was built by a civilization in prehistoric times.
Inns
Granville is home to several historical inns, including the Bryn Du Mansion (bryndu.com), where games of polo are played during summer months on the front lawn. The Buxton Inn (buxtoninn.com) opened in 1812 and is known as Ohio's oldest continuously-operated inn, still located in its original building. The Granville Inn (granvilleinn.com) grand opening took place in 1924 and was attended by 5,000 people.
Other Attractions
There are a couple of other attractions that are located in the greater Granville area. The Dawes Arboretum (dawesarb.org), located in nearby Newark, spreads across nearly 1,800 acres and includes eight miles of hiking trails and a four-mile Auto Tour. Newark Earthworks (ohsweb.ohiohistory.org/places/c0), built by prehistoric Hopewell people between 100 B.C. and A.D. 500, were the largest set of geometric earthen enclosures in the world. The TJ Evans Trail offers 38.7 miles, running through Hanover, Newark, Granville, Alexandria and Johnstown.
Resources
Photo Credits
Comstock/Comstock/Getty Images