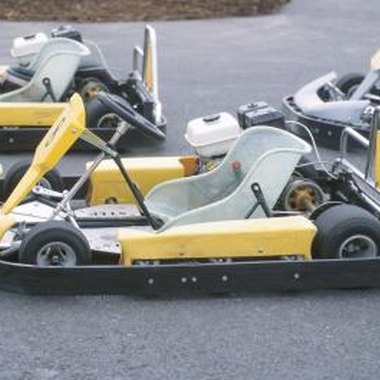 Located in Washington County, Maryland, Boonsboro sits in the southeastern part of the state. Residents and tourists have an opportunity to visit a variety of attractions in the area and participate in family friendly activities, explore nature, view animals and watch shows.
Crystal Grottoes Caverns
The Crystal Grottoes Caverns (crystalgrottoescaverns.com) is located in Boonsboro and was founded in 1920. The caverns are made of calcium carbonate, which has taken thousands of years to develop and form into caves. Groups can explore the caves, and tours are offered every 30 minutes from 10 a.m. to 5 p.m. daily. The location is available for school field trips, church groups and other group outings.
Family Recreation Park
Located in Boonsboro, Family Recreation Park (famrecpark.com) features a variety of activities for families. Activities at the venue include a miniature-golf course, driving range, batting cages and playground. Three go-kart tracks are available for different age groups. A video-game arcade is also located on the premises. Opportunities are also available at Family Recreation Park to play paintball for the day or join a league.
The Maryland Theatre
The Maryland Theatre (mdtheatre.org) is located in Hagerstown and sits just 10 miles from Boonsboro. While the theater was built in 1915, it was destroyed by a fire in 1974 and rebuilt in 1978. The theater seats 1,300 people and has played host to children's theater, comedy acts, recitals, orchestras and symphonies, country shows, musical theater and plays. According to its website, 120,000 people visit the theater each year.
Catoctin Wildlife Preserve and Zoo
The Catoctin Wildlife Preserve and Zoo (cwpzoo.com) is located 20 miles from Boonsboro in Thurmont and is home to numerous exotic animals and exhibits. The zoo sits on 25 acres, and visitors can see more than 1,100 animals from around the world. Some of the exotic animals include lions, wolves, alligators, bears and tigers. The Delaney's Japanese Koi Pond is one of the featured exhibits, and guests can see koi fish, goldfish, catfish and trout there.
Photo Credits
Hemera Technologies/Photos.com/Getty Images