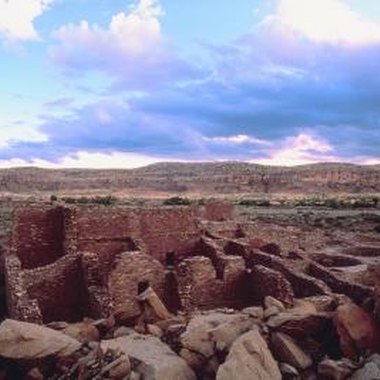 Bloomfield, New Mexico, is a tourist attraction for persons intrigued by desert archaeology. It is a central point of origin for many historical landmarks of the Native American tradition. Bloomfield's own Salmon Ruins is a great reference to a centuries-old lifestyle while more relics lie within a 40-mile radius.
Salmon Ruins
Bloomfield's 21st century Salmon Ruins (salmonruins.com) is composed of a museum, library and research center. The museum provides a tour of 11th-century Native American remnants that once made up a 250-room great house or village. Exhibits feature replicas of hogans, tipis, sweat lodges and pit houses. Visitors interested in preserving local culture and taking home a memoir of the experience may purchase locally made artifacts from the Salmon Ruins gift shop. Salmon Ruins is open to the public and free of charge.
Aztec Ruins National Monument
The Aztec Ruins National Monument (84 County Rd., Aztec; 505-334-614) is about eight miles south of Bloomfield. It provides a more expansive view of great house ruins of close to 500 rooms. Mortar fingerprints and original roofing timber are over 1,000 years old. Be aware, however, that the name of the monument is a misnomer bestowed by European settlers. Like the village fossils of Salmon Ruins, the Aztec Ruins National Monument was originally built by local Pueblo Indians.
Chaco Cultural National Historical Park
The Chaco Cultural National Historical Park is about 40 miles southeast of Bloomfield. The park features multi-storied buildings and architecture that is at least 1,000 years old. Preservation may be partially due to the fact that the park lies in the Chaco Canyon, which sits 6,200 feet above sea level. The National Park Service warns visitors to come prepared for extreme climate changes, flash floods, freezing temperatures on winter nights, lightning strikes and possible sunburn.
Bisti/De-Na-Zin Wilderness
Bloomfield lies about 30 miles southwest of the Bisti/De-Na-Zin Wilderness or Bisti Badlands. The area is made up of steep sandstone erosions that have surreal, other-worldly shapes and appearances referred to locally as "hoodoos." Two major stone formations that attract sightseers and photographers are the Kirtland Shale and the Fruitland Formation.
Photo Credits
Jupiterimages/Photos.com/Getty Images