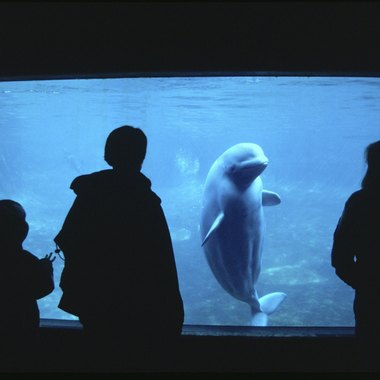 Visitors to Catonsville, Maryland, can have a great time visiting the attractions the area has to offer. Because of its proximity to Baltimore, numerous fun activities and cultural events are available for children and adults.
National Aquarium
The National Aquarium (aqua.org) is less than 10 miles from Catonsville and features a variety of underwater exhibits and attractions. Over 660 species live at the aquarium, including crocodiles, alligators, dolphins, sharks, sting rays and frogs. Visitors also can view exhibits, including Animal Planet Australia: Wild Extremes!, Our Ocean Planet and Jellies Invasion: Oceans Out of Balance.
Maryland Science Center
Residents of Catonsville can drive less than 10 miles to visit the Maryland Science Center (mdsci.org). Exhibits include Dinosaur Mysteries, Newton's Alley, Energy Efficient Car, Our Place in Space, and Cells: The Universe Inside Us. Davis Planetarium at the museum teaches about space, planets and the stars.
France-Merrick Performing Arts Center
France-Merrick Performance Arts Center (France-merrickpac.com) was established in 1914 and completely refurbished in 2004. The theater sits about 15 minutes from Catonsville in West Baltimore. Both dramatic plays and musical theater shows take place at the facility, and amenities include a bar and coat check.
Babe Ruth Birthplace Museum
Babe Ruth Birthplace Museum (baberuthmuseum.com) is less than a 30-minute drive from Catonsville and features a glimpse into the life of one of the greatest baseball players who ever lived. Sports enthusiasts can view memorabilia and learn more about the personal and baseball history of the slugger. As of publication, for a $5 fee, guests can have a picture taken with one of the Babe's game-used bats.
Photo Credits
Ablestock.com/AbleStock.com/Getty Images