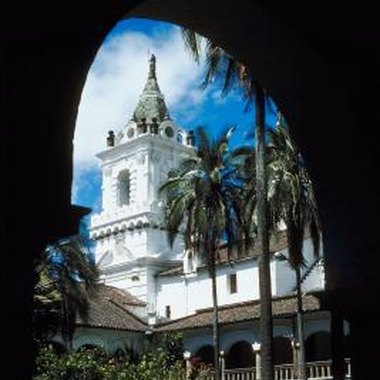 The city of Ambato is the capital of the Tungurahua province in Ecuador. Ambato is home to approximately 221,000 people, and it attracts numerous tourists every year, especially during its annual festival in February. Ambato is known by two names: "the land of flowers and fruits" and "the city of the three Juans." It is a city rich in both agriculture and history.
Historic Landmarks
Known as "the city of the three Juans," Ambato features historic buildings and museums that reflect the rich artistic and intellectual history of Ecuador. A downtown park, Parque Juan Montalvo, is named for the first of the three famous Juans of Ambato. In addition to the park, the birthplace of Juan Montalvo has been restored, and the historic landmark contains the Museo de Reliquias Montalvinas. The museum is a collection of Ambato artifacts including relics, clothing, photographs and manuscripts from Montalvo's time. The home of Juan León Mera, La Quinta de Mera, has also been preserved. On the estate, tourists will find a museum of Mera's artifacts as well as breathtaking botanical gardens.
Markets
Ambato is a fertile area where a variety of foods and crops are grown. The markets feature local produce such as peaches, apples, grapes, pears, oranges and strawberries, as well as sugar cane, which is also locally grown. The main market day in Ambato is Monday, but smaller markets are present on Wednesdays and Fridays. Aside from produce, the markets are an ideal site to find locally produced textiles such as leather goods.
La Fiesta de las Flores y de las Frutas
La Fiesta de las Flores y de las Frutas occurs in late February and lasts for two weeks. Festival events include folk music, dancing, beauty pageants, bull fights, street fairs and parades. The festival dates change slightly from year to year, but the festival always precedes Ash Wednesday and Lent. The festival is a major attraction for tourists. Accommodations during this time are difficult to acquire unless booked in advance.
Setting
For history and art enthusiasts, the architecture in Ambato is one of its greatest attractions. Colonial and modern architecture exist side by side in Ambato, making the city a visually stunning location for art and architecture enthusiasts. In addition to man-made structures, visitors to Ambato can marvel at the sight of the Tungurahua Volcano, which is located in the nearby village of Baños.
Photo Credits
Jupiterimages/Photos.com/Getty Images