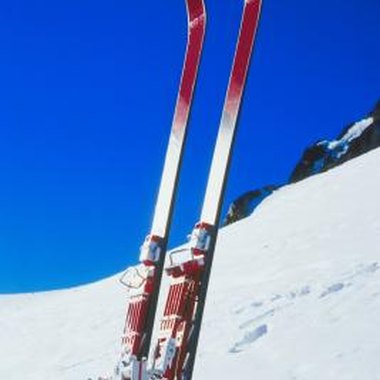 Allentown, in Pennsylvania's Lehigh Valley, boasts big-city sights along along with a small-town feel. Hike, fish or ski in Allentown by day; at night, enjoy fine dining and a show at one of Allentown's many theaters before turning in for the night. If exploring the outdoors isn't for you, visit one of Allentown's museums or amusement parks for education and recreation.
Outdoors
The Lehigh Valley boasts many hiking trails, including a stretch of the Appalachian Trail, and parks for those who enjoy the outdoors. Along the Little Lehigh Creek lies Lehigh Parkway (no website; 1700 Martin Luther King Jr. Blvd., Allentown; no phone), the largest and most famous park in the city. It stretches for three miles and has many trails, bridle paths, fishing areas and a shooting range. In the winter, it hosts the annual Lights in the Parkway, an annual display of holiday lights. Big Rock Park off of East Rock Road in Lehighton, home to Bauer Rock, and Beltzville State Park (no website; 2950 Pohopoco Drive, Lehighton; 610-377-0045) in Carbon County both are north of Allentown and offer camping as well as hiking trails. Beltzville Dam is located in Beltzville State Park and also has a beach section, along the lake with boat moorings for those who boat and fish.
Museums
The America on Wheels Museum (americaonwheels.org) is dedicated to wheeled transportation and features exhibits stretching from the Ford Model T to today's vehicles and future technologies. Also on display is Pee-wee Herman's bicycle. The Liberty Bell Museum (libertybellmuseum.org) tells the story of how Allentown safeguarded the Liberty Bell and 10 other bells while the British occupied Philadelphia and also showcases its own Liberty Bell and many Revolutionary War artifacts. The Da Vinci Science Center (davincisciencecenter.org) features hands-on exhibits representing many scientific fields, including renewable energy and engineering.
Theaters
MunOpCo (munopco.org) is Allentown's musical theater company. The theater stages many Broadway-styled and off-Broadway shows throughout the year while also offering singing, acting and dancing workshops to the public. The Civic Theatre of Allentown (civictheatre.com) is a professionally staffed community arts center that offers many theatrical productions throughout the year.
Recreation
Dorney Park & Wildwater Kingdom (dorneypark.com) is a combination of two parks, a rollercoaster amusement park and a water park. Dorney Park offers special "2 Parks for 1" tickets, offering admission to both parks during the season, which runs from late April to the end of October. Before it closes for the year, get spooked at the "Halloween Haunt," in which the park is seemingly taken over by ghosts and ghouls for a frighteningly good time. Allentown is south of the Blue Mountain skiing area, which has 33 skiing trails and several ski resorts for the winter sports enthusiast. The Bear Creek Mountain Resort (bcmountainresort.com) lies 12 miles from Allentown and has 21 ski trails for all levels of skiers. The resort also has night skiing, snowboarding and snow tubing.
Resources
Photo Credits
Jupiterimages/Photos.com/Getty Images