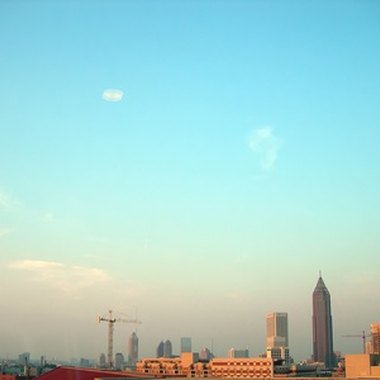 Interstate 85 will take you through different parts of Georgia, North Carolina and South Carolina, including through Atlanta. Hotels that sit close to the interstate are also within a short drive of other major Atlanta attractions, such as the city's professional baseball, football and basketball facilities; puppet theater; aquarium; Martin Luther King Jr. center; civil war museum; amusement park or Coca Cola center. Many hotels near Interstate 85 offer amenities for travelers, such as concierge services, lounge areas or 24-hour convenience markets. Others have family-friendly amenities, which can include restaurants with children's menus.
Ritz-Carlton Atlanta
The Ritz-Carlton Atlanta is located in downtown Atlanta, about 0.7 miles from the Interstate 85. The hotel is found within a short walk of the Georgia Aquarium. The hotel offers packages with tickets to the High Museum of Art, special holiday dinners or breakfasts for two people at the hotel's restaurant. A lobby bar regularly has live flamenco, rock or jazz musicians. The on-site southern-style restaurant has foods such as shrimp with grits, pot roast, trout with ham or pasta with ox tail. Children can get breakfast foods such as peanut butter and jelly sandwiches at the restaurant. The gift shop offers Ritz-Carlton signature items, such as t-shirts, robes, moisturizers or hats. You can rent cars or limousines from the hotel. The 24-hour fitness center features a steam room and massage treatments. Some suites come with French doors leading to studies or living room areas. The hotel provides hors d'oeuvres and foods, such as cheese and crackers or fruit, to people in club-level suites. Some suites have luxury amenities such as grand pianos or butler's pantries.
Hampton Inn and Suites Atlanta-Downtown
Hampton Inn and Suites Atlanta-Downtown sits about 2.4 miles from the interstate. The hotel is within walking distance of the CNN Center. The hotel, found in a building that was constructed in 1917, is on the National Register of Historic Places' list. It was one of the few buildings to survive the Atlanta Fire of 1917. For busy guests, the hotel has a daily breakfast buffet with hot foods such as sausage and French toast sticks or on-the-go breakfast bags with fruit, muffins and cereal bars. Hotel staff can provide high chairs for use in the hotel's dining area. Suites come with living room areas with sofas and recliners. They also have kitchen areas with dishwashers and refrigerators with ice boxes.
Atlanta Marriott Downtown
Located about 2.4 miles from the interstate, Atlanta Marriott Downtown sits within a short drive of Turner Field, the home of Atlanta's professional baseball team, and Underground Atlanta, a historic area filled with shops and restaurants. People staying in some suites have access to a lounge area with light snacks such as chicken Alfredo or calamari. The hotel provides bathrobes and bottled water to people in certain suites. An on-site American-style restaurant offers breakfast, lunch and dinner. The gift shop has items such as cold medicine and snack foods. The hotel has packages that include items such as children's toys, tickets to live shows or the Georgia Aquarium, bottles of champagne or dinners for two at the hotel's restaurant.
Embassy Suites Atlanta Hotel at Centennial Park
The Embassy Suites Atlanta Hotel at Centennial Park is located about 2.5 miles from the interstate. It sits within a short walk of Centennial Olympic Park, the World of Coca Cola Museum and Imagine It! The Children's Museum of Atlanta. The all-suite hotel offers dining choices that include a market with coffee, sandwiches and soup and a fine-dining steakhouse with lamb, lobster and steak choices. The hotel provides a daily complimentary breakfast of foods such as omelets. Inside an atrium, guests can attend a reception with beverages such as beer, wine or soda and light foods such as pretzels or chips and dip. Both bedroom and living room areas have LCD TVs with pay-per-view movies. Some suites come with furnished terraces that feature views of Centennial Olympic Park.