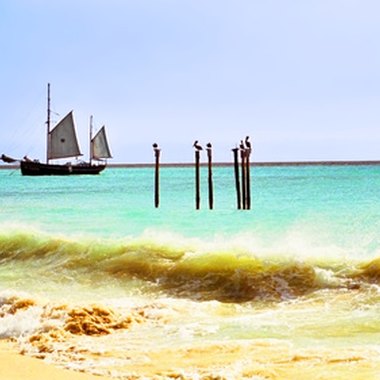 Aruba is an island of only 75 square-miles located in the Lesser Antilles in the Caribbean Sea. Because of the tropical climate, sugar-white beaches and warm water, Aruba is a top family vacation destination throughout the year, resulting in the construction of many family-oriented resorts and hotels around the island. Each major beach and neighborhood is home to an accommodation appropriate for a family to stay.
Palm Beach
With several luxury hotels and a new shopping district, the city of Palm Beach is the most visited area of Aruba. The Hyatt Regency Resort towers over the beach and allows kids under the age of 17 to stay free in their parent's rooms. The Occidental Grand Aruba charges half-price to kids aged 2-12, offers babysitting services upon request, and has a kid's playhouse. The Radisson Aruba Resort has three restaurants, a casino, a child center and two bars. The tallest building in Aruba is the Westin Resort, with 18 floors and many amenities, including family scuba lessons and concierge services.
Eagle Beach
Eagle Beach, near Ornjestad has sprawling, white public coasts. One family accommodation option in Eagle Beach is the Costa Linda Resort, which has children and teen programs and babysitting services are available. Each room includes a full kitchen and a large living room for large families. More affordable than most high-rise resorts, the Paradise Beach Hotel is often frequented by American families. Each room has either a kitchenette or full kitchen, and bathrooms feature Jacuzzis. Babysitting services are available. Kids under 12 may stay in their parents' room for $15 each.
Ornjestad
Ornjestad, the capital of Aruba, has a large port, an international airport and many accommodations. Here, you can find the Talk of the Town Hotel, the oldest operating accommodation in Aruba. The hotel is does not have many of the amenities of a large luxury resort, although a spa is located across the street, and the hotel has babysitting services, an outdoor pool and a restaurant and bar. If you are looking for a quiet, comfortable hotel, the Amsterdam Manor is designed like a cozy Dutch hotel. Children under 11 may stay for free, and the hotel has four bars and restaurants and a children's pool.
Manchebo Beach
The Aruba Beach Club, found on the front of Manchebo Beach, is known for its friendly service and chummy atmosphere. The kids program, babysitting service and children's pool makes the hotel family-oriented. Right next door to the Aruba Beach Club is the Casa del Mar Resort. Each of the two buildings that make up the resort has a pool and a tennis court. The hotel features a swim-up bar, a kid's program and an exercise room.
Photo Credits
aruba beach image by Christopher Dodge from Fotolia.com