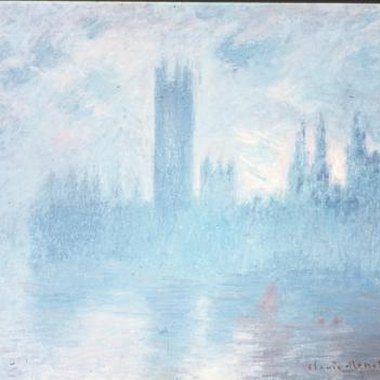 Impressionist painters were a group of mostly French artists who strove to emulate the action of light in nature. They wanted to capture light in motion as it bounced off their subjects. No subject was too difficult for their experiments. Seascapes, landscapes, portraits and still life paintings were equally challenging and equally sought after as subjects. In 1874 these artists held their first combined exhibition in France. All the works were made according to the same style, which came to be called "impressionism" after a critic referred to it in this way. Impressionist art did not catch on at first but is now recognized as one of the iconic movements in the art world.
Claude Monet (1840-1926)
Monet was on the cutting edge of this new way of painting. His desire was to capture the essence of the light and atmosphere in a scientific manner. One of his most famous early impressionist works is "Red Boats at Argenteuil," which he painted in 1875. During his early years, financial difficulties caused many of his works to be forever lost. In his later years, he painted the gardens, Japanese bridge and lily pads at his home in Giverny. He continued to work on these large paintings in spite of difficulties with his vision. The Musee d' Orsay holds a large collection of his works, which may be viewed online.
Auguste Renoir (1841-1919)
Impressionist Auguste Renoir used repetitive brushstrokes to evoke images of sunlight shining through the trees in such famous paintings as "The Swing" and "Moulin de la Galette," which were intended to represent the artist's vision of everyday life. Renoir was known for using diffuse light and for a sense of gaiety in his works. His son, Jean, went on to become one of the world's most acclaimed filmmakers, sometimes adapting the impressionist aesthetic to a new medium.
Edgar Degas (1834-1917)
Edgar Degas is probably best known for his pastel paintings of ballet dancers. An example is "Foyer de la Danse," completed in 1872. Degas did not agree with all the tenets of i impressionist art, but he did experiment with the principles and methodology. In "Foyer" Degas took an unusual elevated perspective and added a simple piece of furniture to enlarge the spacious look of the room. Degas enjoyed the varied light sources of dance studios and the stage and brought them to life in a number of paintings.
Mary Cassatt (1844-1926)
The American artist Mary Cassatt was heavily influenced by the pastel portraits of Edgar Degas. Traveling in Europe, she saw his work and was entranced. Mary was an artist at a time when women were not thought of as being able to have careers and initially exhibited under an assumed name to avoid the ire of her father. Cassatt focused on portraits of women in everyday life, with a brief journey into the world of the impressionists. She soon abandoned the label, however, as she found her own style of portraiture. Her famous "In the Box" is an example of her impressionistic-yet-realistic style, depicting women as they appeared to her. Her art career was interrupted a number of times by family matters. Sadly, after her family duties were over, the final years of her life were spent in blindness brought on by diabetes. She spent her last 11 years in the darkness of poor vision, unable to paint.
Photo Credits
Jupiterimages/Photos.com/Getty Images