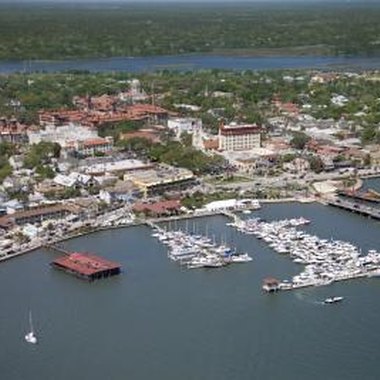 The historic city of St. Augustine, founded in 1565, lies in northeastern Florida. The coastal city is home to a self-guided art walk every first Friday of the month, sponsored by Art Galleries of St. Augustine. Additionally, a handful of arts and crafts festivals take place there every year, featuring the handiwork of St. Augustine's locals as well as artists from around the state and country.
St. Augustine Art Association
The St. Augustine Art Association (SAAA) (staaa.org) has held art festivals in St. Augustine since 1934. Normally, it holds two art festivals each year -- one on the weekend following Easter and another on Thanksgiving weekend -- at Francis Field, behind the St. Augustine Downtown Historic Parking Facility. Proceeds from the festival admissions support the SAAA's various programs. Festival awards include Best of Show, Best 3-D Sculpture and Best Pottery. Exhibitors must apply with the SAAA before the festival in order to show their work or sell crafts. Entertainment includes live music, as well as artists at work and a Kids Art Zone.
Every Woman's Hand-Made Arts and Crafts Festival
The Every Woman's Hand-Made Arts and Crafts Festival features arts and crafts made by local female artists. Marianne Campbell and Malorie Shannon began the event in Campbell's driveway in 1998 as a way for female artists to exhibit and sell their works while avoiding the strict regulations and expensive fees of other festivals and galleries. Since 2007, a Holiday Festival has been added during the winter. Both events take place rain or shine at St. Augustine Beach Pier Pavilion. The festival features an array of crafts, including everything from recycled art and clay works to pet coffins, from more than 60 female artists. In addition to the handmade items, the festival offers mixed media art, music and food.
Old Town Art & Craft Show
The Old Town Art & Craft Show, a juried art and fine craft festival, takes place annually at Francis Field in late December. The festival features a range of crafts, including pottery, photography, fiber art, and metal, glass and wood workings. The two-day festival has free admission; however, exhibitors must pay registration fees and apply 60 days in advance. Food is available at the festival and the host hotel is the nearby Holiday Inn Express.
St. Augustine Lions Seafood & Music Festival
While not exclusively an arts and crafts festival, the weekend-long St. Augustine Lions Seafood and Music Festival, held at Francis Field in mid-March, has an extensive arts and crafts section, featuring more than 100 artists and craftspeople. Custom-made sandals, signs and jewelry can be found in the crafts area. Entertainment options include rides, face painting, raffles and live performances. As the festival name suggests, local vendors serve a wide variety of seafood dishes, including crab cakes, lobster nachos and shrimp skewers. St. Augustine Celtic Music and Arts Festival ticket holders are admitted free.
Photo Credits
Thinkstock/Comstock/Getty Images